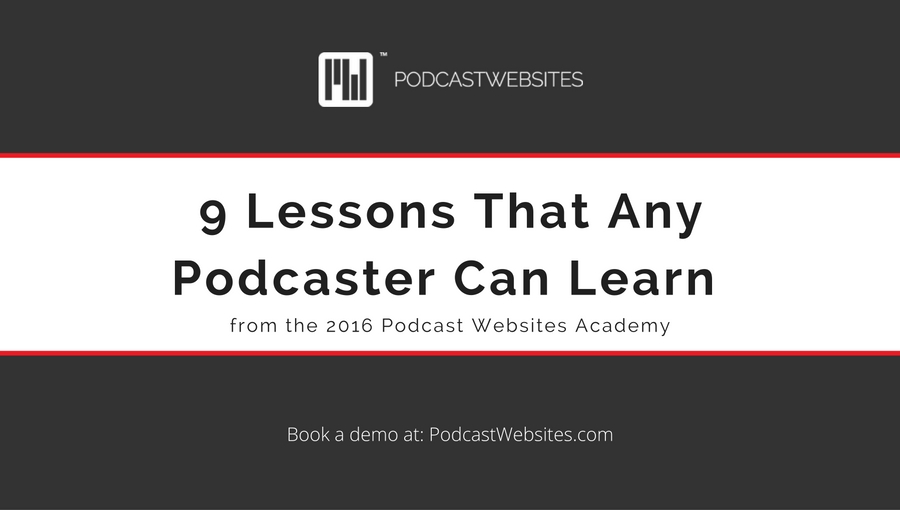 9 Lessons That Any Podcaster Can Learn from the 2016 Podcast Websites Academy
One of the best things about Podcast Websites is that we invest time into our members' podcast development. The Podcast Websites Academy is a division of Podcast Websites where our paid members get access to exclusive information to help them grow their podcasts. Each month we invite individuals from podcasting and marketing communities to share lessons that will make an impact in the development of our podcasters.
The Academy Sessions are live streamed for our members each month, with replays available in the Learning section of our dashboard for members to consume at their convenience. Live viewers get the opportunity to ask questions and get answers directly from our guest experts.
While all of our Academy sessions are outstanding, here are lessons that stood out from the sessions this year.
Do you know the difference between a condenser microphone versus a dynamic microphone?
Shawn Smith is known as the Moblie Pro among podcast circles. During his May appearance, Shawn discussed many aspects of getting your podcasting on the road. One of the key things he spoke about was the difference between condenser and dynamic microphones.
Often in podcasting communities and conferences, microphones and equipment are discussed. Shawn broke down the real differences of the dynamic and the condenser microphones and why one is better for on-the-go podcasting.
A condenser microphone is omnidirectional, and it picks up sound from around the recording space. This type of microphone is incredibly sensitive, and you will have to use a pop-filter with it. It is ideal for recording in a silent place.  Shawn recommends for mobile recording that podcasters have a dynamic microphone. A dynamic microphone is unidirectional on the top of the microphone, and it does not typically pick up background noise.
Shawn wants podcasters to consider where they will be recording, even if they aren't on the road. If your location is quiet and studio quality, then a condenser microphone is a good choice. However, if you know you'll be in a place that has background noise it is better to invest in a dynamic microphone.
Facebook is still valuable to podcasters
I had the pleasure of hosting an Academy Session in April 2016, where I broke down why Facebook is still an important place for podcasters to invest time and money to grow their show audience.
One area that many podcasters skip or don't spend time on is their podcast business page. Many individual don't focus on business pages because Facebook's organic reach is laughable at this point, especially for business pages where Facebook wants you to invest in ads and sponsored posts. Growing a Facebook business page is still worth a bit of time because of the insights you can get from your audience. Another benefit from a Facebook business page is the growth of Facebook Live the past year and the announcement of an audio only verison of the application.
Many experienced podcasters tell beginner podcasters that they need to create an avatar for the show. An avatar is a person for whom they are directly speaking to regarding content creation. Having a Facebook page means you can have true insight into who your audience is, where they live, what gender they are, and other key details. You can also get this information from tools like Google Analytics. The point is to use this information to tailor the content of your show, social media, and email platforms to deliver what your audience needs.
The other place many podcasters skip is their private Facebook profiles. Too often they don't want to clog friends and family's newsfeeds with what seems like self-promotion. Most people discover podcasts from the recommendation of others. If you have a good personal following on Facebook or another social media channel, then it is worth it to add it to your social calendar. One or two posts could lead to more subscribers.
The two keys for securing sponsorship of your show
Jessica Kupferman is the co-host and co-creator of the She Podcasts show and Facebook community. This year she launched her podcasting agency designed to help podcasters connect with would-be advertisers.
Jessica was our September Academy speaker, and she broke down standard advertising terms that podcasters think they know. One of the best points Jessica made about monetization of podcasting are three things podcasts need to have to get sponsors for their shows.
The first is to create what Jessica calls 'crazy valuable content' where a podcast host knows her stuff upside down, backward, forwards, and continues to seek out knowledge about her topic. She is also going to have a strong point of view that is authentic.
The second thing a podcast host needs to attract sponsors is an engaged group of listeners. A podcaster's audience needs to love the podcast so much that they send emails, provide comments on blog posts, and follow on social media. There will be an active community hub, a website forum or Facebook group. The audience is eagerly responding to things the podcast guest is talking about on the show. Moreover, the audience needs to want to find out what the host uses regarding products. The final step is that the podcaster needs to be good at selling, or have the willingness to learn. She has to be comfortable sharing ad copy and promoting products.
Podcast success starts with consistency
Colin Gray is one of the leading podcast workflow experts in the world. He came on in August to discuss his methods for producing and editing podcasts using the popular software Audacity.
One of the first things Colin spoke to our Academy members about was the need for a balance in quality and regularity for their podcast production. Quality is important, regarding sound, editing, and tone, but Colin believes many podcasters should spend more time discussing and developing consistency in their actual production.
Regularity for a podcast might mean segments like answering an audience question (bonus points for audience engagement). The key to consistency isn't to make your podcast so systemized that it lacks personality, rather it allows you to know the structure of your show to help you plan out episodes and themes. This will help with production because you know what to expect and what you'll need to provide.
How to find content opportunities
Search engine optimization is a subject that is often complicated, and it's a bit surprising there is a lot of misinformation out in the digital world. This is why we invited Dan Shure from Evolving SEO as an Academy Speaker to give our members practical advice on using SEO for podcast development.
One of the most practical tips Dan showed our group was how to turn a simple Google search into a gold mine of topic opportunities. Here are the steps he outlined:
Type in a broad topic – he used baking as an example.
Take a look at the top sites Google brings up in the search and copy the URL.
Use an SEO tool (he recommended SEM Rush) and put the link of the first result of the search and look at the pages report.
From there find a more specific topic – niche it down and find keywords you may be able to gain authority on
Here is the key according to Dan, look for keywords not in the 1,000s but in the double digits that have long-tail search possibilities. Then write about these topics. This is where you can compete, even with large brands.
Don't assume your audience knows what to do with your content
Craig Carpenter, the creator of RELAY the graphic design tool, spoke about how to turn audio content into visual content. Using things like pull quotes, summaries, and infographics is a wonderful way to repurpose audio content into a new form.
One thing Craig mention was not to assume your audience or avatar knows what to do with your content. Because there is still a large part of the population who still does not regularly listen to podcasts, it is a good idea to create was to show them how to use and consume this type of content. Craig highlighted that one of his members created a graphic showing how to subscribe to a podcast in iTunes.
Go through some of your content and ask yourself is there another way you can educate or encourage your audience to consume it? It's a simple idea, but one that could have a significant impact for growing.
The best way you can be the best podcast guest
Getting on other people's podcasts is one of the best ways to get more listeners to your podcast, according to guest booking expert Jessica Rhodes. Jessica reminded all of us that when you actively seek out guest appearances, you're giving yourself the potential to be introduced to people who already listen to podcasts.
One of the best ways to be a great guest is to help the host prepare for your interview. As a guest, you want to make the host's job easy by being flexible with the recording schedule, and having something called a one-sheet with all the information your host will need to introduce you with your background. The one-sheet should have your bio in third person, interview topics, and links to past interviews. This will give your host a starting point and will set you up for success as a guest.
Can you figure out your guest's seduction language?
Danielle Watson has the distinction of not being a podcaster in our Academy line up this year. However, don't let that make you think she does not bring value because Danielle is a podcast guest supreme and has been on many shows.
Danielle showed our Academy members ways in which to entice your podcast guest into actually promoting their appearance on your show. Her big tip is the podcast host has to motivate the guest sometimes to promote the show. If you can figure out how to give your podcast guests an easy way to promote the show without being pushy people will want to promote the show. The key is finding the seduction language of your guest.
One of the biggest reasons guests doesn't promote their appearance on your show they don't know how it will serve them. You need to show them how it helps them by reminding them it increases their influence in their industry; you need to think about your guest and listeners to figure out their personal motivating factors. Once you have that use language that will inspire action. For example, if you have a guest that is more ego driven you can gently remind them that their information is going to be so valuable to their community so don't keep it a secret. Just this phrase puts the importance on the guest and could inspire them to highlight their appearance.
The art of the interview begins with you understanding why your guest is on the show
Michael O'Neal is a Podcast Websites member (he is the co-host of The Hines Ward Show) and a very successful podcaster of the Solopreneur Hour with Michael O'Neal. He also has the distinction of being the only Academy Seminar that we opened to the public. Our team at Podcast Websites decided to peel the curtain back to allow others to see the quality of the education that our Academy guests bring.
Michael used his session to talk about The Art of the Interview, something he is very passionate about. One good takeaway from the session was that many new podcasters try to go after the big fish for interviews but don't have the interview chops to handle them. Michael reminded all of us that our podcasts are our platform, not a place for others to promote themselves. Podcasters need to control the interview.
When booking the guest try to think about what this person will bring to the show to have an idea of the main theme for the discussion. Knowing this can help you, the host, guide the conversation back to the topics that your audience will care about.
Luckily for you, the full Michael O'Neal Academy Session is available for you to view yourself. If you're in need of refining your interview skills or you want to see how we do an Academy session, then I'll encourage you to check it out.
---
Still Need Help Getting Your Podcast Started?
Podcast Websites is your all-in-one solution to turn your passions into podcasting success. With our platform, you'll get a WordPress ready website, podcast hosting, and support for one monthly price. Find out more by scheduling a one-on-one to find out more.
Ready to monetize your audience & become an audio influencer?
Podcasters all across the world are transforming from simply producing audio to becoming a monetised, influential brand with Podcast Websites. When you're ready to become an audio influencer in your niche, we're here for you.
Ready to monetize your audience & become an audio influencer?
Podcasters all across the world are transforming from simply producing audio to becoming a monetised, influential brand with Podcast Websites. When you're ready to become an audio influencer in your niche, we're here for you.