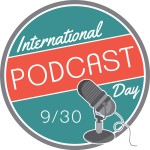 Start your podcast with a free lifetime membership!
Want to start a podcast but worried it's too technical?
We got your back, and that's why Podcast Websites makes it easier than ever to get your show online. Our all-in-one podcasting platform allows you focussing on rocking the mic without any technical worries at all when it comes to publishing your show and building your hub online.
On International Podcast Day we're celebrating by inviting one brand new podcaster into to the Podcast Websites family with a free lifetime membership.
Important: it's best not to enter with a generic email such as "info@", or "office@".

Win free lifetime membership on #PodcastDay
We respect your privacy and take protecting it very seriously. No spam at all from us!
We will send you information on this contest and also news and content relating to podcasting or Podcast Websites' products and services that help podcasters.
Entering your email address above will gain you one entry to the contest.
You will then be given a personal referral link to share. The more you share that, the more likelihood you have of one of your friends entering using that link.
For each friend who enters, you will be granted one more entry into the contest, increasing your chances of winning.
Winners are selected at random so the more entries you have in the pot, the more chance you have - there is no limit!
Contest closes at 11:59pm Pacific on October 2nd 2017.
We help these podcasters every day.
"The personal support is unbelievable!"
"It's so great knowing that I can be at a conference and have a team of people who understand my needs & the podcasting industry, supporting my podcast website. It's like having my own design & development team!"
Richard Kligman
"Wow, podcasting is so easy now!"
"I am so THRILLED how easy this is. I've put in probably 20 hours total on my site and it's ready to launch!
This system you created is outstanding. Thank you so much!"
Lauren Herrera
"Thank you, nothing is too much trouble!"
"Thank you! I admire how you are so personal.
You provide EXCELLENT customer service. I wanted you to know that I've noticed & am most grateful!"
Rhonda Erwin