Podcast Movement Recap: Podcast Websites Invades Chicago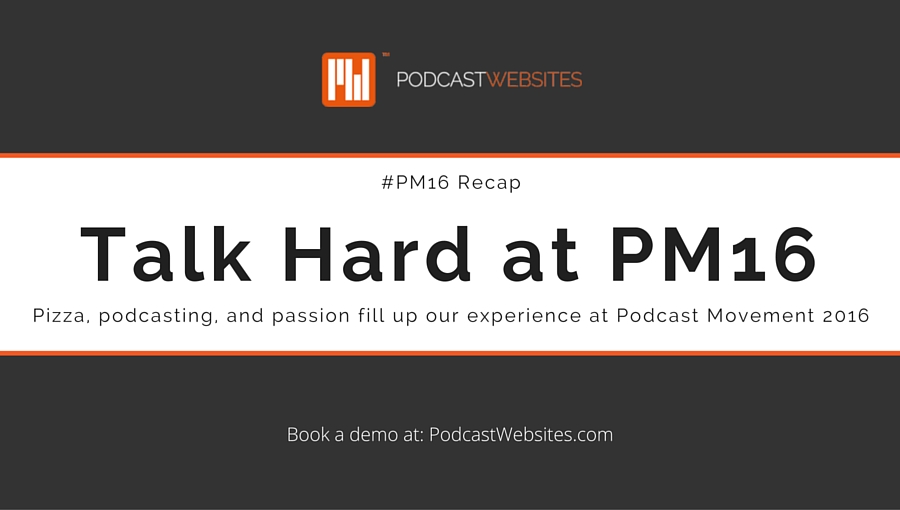 Podcast Movement, the largest gathering of podcasters in the world held it's third annual in Chicago, Illinois and it was spectacular. Podcast Websites was so pleased to host a booth this session and meet so many of our amazing community members. Here are some of the highlights.
Talk Hard Debut at Podcast Movement
We gave our new tagline, Talk Hard, a spin at Podcast Movement with some pretty impressive swag including the popular Talk Hard t-shirts. Several notable podcasters, including Pat Flynn from Smart Passive Income, Rob Cesterino from Rob Has a Podcast, Daniel Dopp from ESPN, and many others grabbed their shirts and wore them proudly throughout the conference.
The Podcast Websites Booth
Our booth was also host to a live recording of We Should Not Be Friends hosted on Podcast Websites platform. Tim Jester and our community manager Ramona Rice are the hosts and were also managed the booth, where we handed out all kinds of awesome Podcast Website swag. Co-founder Mark Asquith not only worked the booth but participated in many Podcast Movement events.

PMx Talks
Podcast Websites members were all over the PMx Talks. These are 15-minute talks similar to TEDx-style talks that give more speakers opportunities to share some great wisdom. These aren't just about podcasting; they can be any topic.
Guthrie Chamberlain shared his ten keys of wisdom outlining some of the things he learned on his year-long Wisdom Trek.
Angus Nelson gave an amazing speech about overcoming the fear of creating amazing content.
Mark Asquith talked about the importance of treating your podcast like a startup to maximize exposure and potential for growth.
Ramona Rice kept Ballroom A going as the emcee for the PMx Talks. Her job was to introduce several podcasters, including a few members from Podcast Websites.
Member Meetup
Podcast Websites treated community members to authentic Chicago-style pizza and a visit from Mark, Ramona, Kate Erickson and John Lee Dumas. We had close to 30 members stop by and try the thickest pizzas we've ever seen stuffed with things like housemade sausage, spinach, and other yummy things.
What was also fun was spending time with our members away from the hustle and bustle of PM16.
Sessions at Podcast Movement
There were some amazing sessions held at PM16!
Hani Mourra did a fantastic job during his talk about making podcasting easier with automation tools like his Simple Podcast Press. We love having Simple Podcast Press as part of our Podcast Websites platform.
John Lee Dumas and Kate Erickson pulled double duty with an incredibly popular workshop about setting and accomplishing goals and the systems needed to get to your next level. We overheard many podcasters say it was one of the best sessions of the conference.
Another Podcast Websites member. Dr. Shante Bishop led an incredible session on how faith-based podcasters can grow their audience in a very competitive niche. One of the key takeaways from her session was that podcasters shouldn't copy another podcaster's success story. Instead, they need to create their own.  Shante provided another popular session with rave reviews including a lively discussion of the correct pronunciation of pecan.
Mark Asquith was invited to participate in a panel hosted by Aweber's Erik Harbison called 'How to Scale Your Podcast into a Business.' Tim Paige from Lead Pages, Carrie Olson from Carrie Olson Voice Overs, and David Raphael from Public Media Marketing joined Mark and Erik on stage. Together they gave practical ways to grow your podcast from hobby to viable business. Plus, Mark and Tim got a few mentions of comic books in too.
Outside of the Conference
Chicago provided some fresh experiences for the Podcast Movement attendees. Mark, Ramona, and Tim arrived a day earlier and hit up a Cubs game with Trivial Warfare host Jonathan Oakes and then enjoyed the Trivial Warfare meet up where several of the Trivial Warfare Army members came to play trivia. Our team did fairly well, coming in 5th out of 31 teams.
Several of the Podcast Websites members got together to rock out the karaoke. Apparently, Mark is an ace at singing 80s rock anthems and movie soundtrack songs.
And if you ever have the chance to visit Chicago make sure to try Garrett's popcorn! It was incredible.
Podcast Movement this year was outstanding. So many good moments and learning opportunities, plus it was nice to have so many of our fellow Podcast Websites members under one roof!
---
Still Need Help Getting Your Podcast Started?
Podcast Websites is your all-in-one solution to turn your passions into podcasting success. With our platform, you'll get a WordPress ready website, podcast hosting, and support for one monthly price. Find out more by scheduling a one-on-one to find out more.