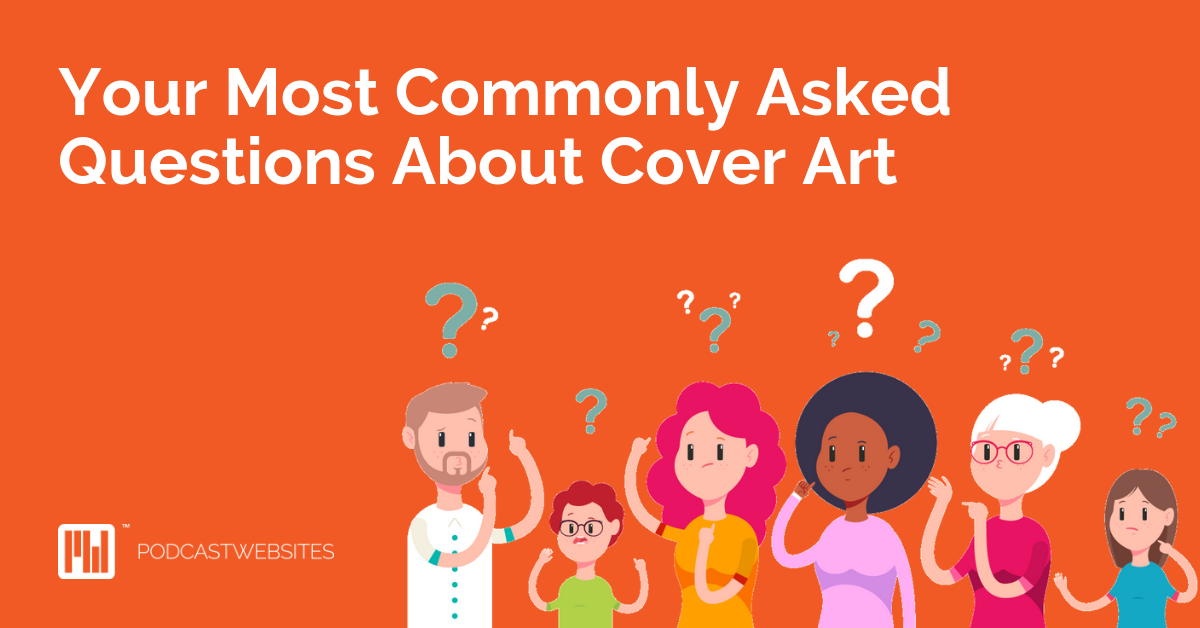 Your Most Commonly Asked Questions About Podcast Cover Art
Podcast cover art seems to be one of the most stressful parts of starting a podcast. So much is riding on the final outcome – and many feel the wrong decisions could make or break the success of a new show. We often hear the same questions over and over about podcast cover art, as podcasters close in on their launch days.
So, let's settle these debates once and for all.
Should I use my photo in my podcast cover art?
Many people start a podcast to gain notoriety. (Sorry – it's not that big of a secret!) So, the first instinct is to put their face or a photo of themselves right there on the cover. But is this a good idea?
Unless you are already known in your industry or amongst potential listeners, the answer is almost always no. Podcasting will help you gain notoriety, but it's going to be tough to get listeners to tune into the podcast cover art if it is more focused on the host than focused on explaining what the show is all about.
Resist the urge to be front and center, for now. Focus on what you think people need to see in order to hit play.
It's worth noting, too, that shows without photos on their cover art tend to get better click-throughs… so…
What should I include on the podcast cover art? Keep it simple, or a call to action?
Calls to action are great for online situations when readers are being given a lot of information and aren't sure what the next steps are.
However, this situation doesn't exactly apply when someone is looking to listen to a podcast. The strongest call to action is "listen now" and if they're in a podcast directory, that part is probably understood.
Keep it simple – just the title is all that's necessary. Even the tagline can be left off.
Can I use swear words on my podcast cover art?
Not if you want to be in a podcast directory. You want to be true to your personality and the purpose of your content, but a swear word can have you banned from being listed, even in Apple Podcasts.
An alternative way to use provocative language is to spell out part of the word and use special characters or use a word that rhymes. Lots of people do this. (and you COULD risk it, with certain words but as my mom used to say, when in doubt, do without.)
To be clear, there's nothing wrong with colorful language, and if that's your thing, we support you 100%. But podcast cover art is meant to appeal to as many people as possible.
Don't risk your visibility because you need to swear. Use your epsiodes for that.
How much should podcast cover art cost?
There is an underground rule about graphic design and pricing. The cheaper it is, the cheaper it looks. There are a few exceptions, but good graphic design takes thought, planning, and a general understanding of marketing principles.
Fiverr.com and 99 Designs often leave customers feeling frustrated and helpless, as the amateur designers struggle to get the design exactly right and the clients often don't have the ability to communicate why they're displeased.
For decent podcast cover art, plan to spend $200-$400. If you don't have a logo already, double that price. Logos are very complicated and need to portray the exact right message to the audience.
I heard that I HAVE to use the word PODCAST on my podcast cover art. Is this true and why?
No, it's absolutely not true. You can use any words on your podcast cover art, or no words on your podcast cover art. In fact, "podcast" is probably the last word you need on podcast cover art. Anyone listening is listening where podcasts can be found, so the audio type is understood.
How important is it that my podcast cover art says what the show is about?
Again, you can say anything on your podcast cover art or nothing at all. The most important element of podcast cover art is that you make the potential listener understand what they're in for. Being cute with titles can sometimes be very misleading about the topic.
For example, a podcast titled "Striking Out" could be about baseball or dating. The answer as to which will depend on the color, font, and any other design elements. But a better option still would be to call the show "Striking Out – Sad Tales of Dating" or something similar.
The answer to the question is that it's absolutely vital that somehow you indicate as closely as possible what your podcast is about on your podcast cover art. Most of the time, its the only thing a listener has to help them decide what to listen to.
Who did your podcast cover art aka where can I get my podcast cover art done?
We are so glad you asked!
Most of us who work at Rebel Base Media are asked this regularly because chances are, we've designed it ourselves. And we are so excited to offer our services to ALL podcasters!
We've taken very special care to select the absolute best of the best design team and priced our services WAY below what freelance graphic designers would normally charge.
So, if you are in need of a podcast cover art refresh, or planning a new show, please order your new art here through the Podcast Design Studio! We are having a $50 off sale now through February.
SAVE $50 OFF
YOUR NEW COVER ART NOW
Hopefully, this article has helped you finalize those little details that make all the difference in fine-tuning your podcast cover art. Don't forget – this is all a listener has to decide on sometimes. Make each pixel count.
Ready to monetize your audience & become an audio influencer?
Podcasters all across the world are transforming from simply producing audio to becoming a monetised, influential brand with Podcast Websites. When you're ready to become an audio influencer in your niche, we're here for you.
Ready to monetize your audience & become an audio influencer?
Podcasters all across the world are transforming from simply producing audio to becoming a monetised, influential brand with Podcast Websites. When you're ready to become an audio influencer in your niche, we're here for you.