6 Reasons You Want a Podcast Mentor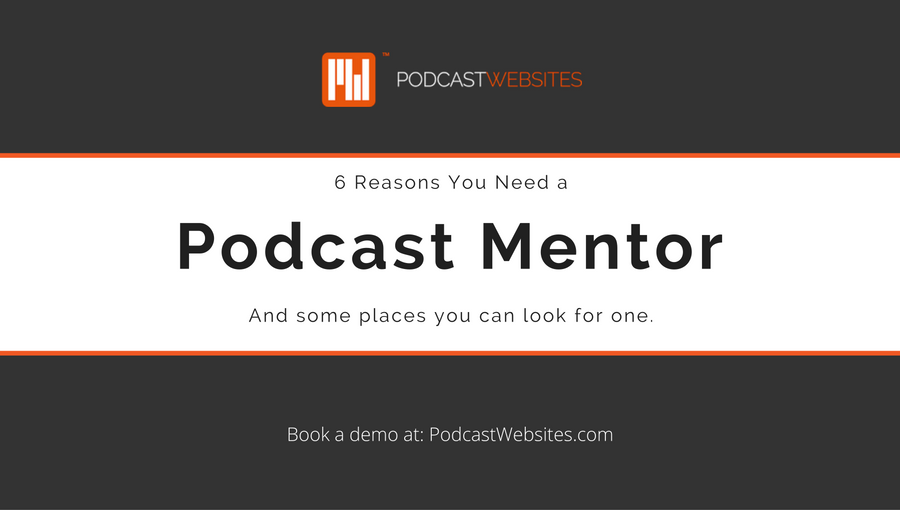 When you begin a project, like a podcast, one factor that can determine success right off the gate is having a mentor or a mastermind group. With so many articles and how-to guides on beginning a podcast, having a group of people to help narrow your scope and move you past the awkward beginning stage.
Reasons you need a podcast mentor can be many but here are a few of our favorites.
Impartial sounding board
When you're working towards launching a podcast, your heart, soul, and sometimes tears are throughout the project. You might be too close to the project to have an objective opinion – especially if there is something you need to change.
Having a mentor that is willing to listen to your recordings, able to help you format the show before you launch is invaluable. Having a polished podcast right from the start of your launch will help you grow and keep subscribers.
Getting the format just right
The right mentor is going to work with you as an impartial sounding board, to give you the terrible advice that you may need to push your podcast forward. Having the neutral sounding board is so valuable because it allows you to get feedback to improve your podcast before it goes live.  Getting the right format is more that just deciding if you're going to do an interview based show or if you're going to go solo.
Your mentor can work with you on the pros and cons of the type of show you're trying to produce. If you want to create an interview based show what kind of time hacks can you use to book and onboard guests. How to get over feeling like you're speaking to an empty room if you're doing a solo show.
Finding your right avatar
With the guidance of your mentor, you have the chance to work on who your avatar is and how you can best serve her. Understanding and developing a strong avatar is a step that many podcasters skip because they already believe they know who their audience is going to serve. A mentor can help you see why this is important to take the time and develop. I love this article by Mark Asquith on how to craft an avatar.
Your audience avatar is the person you're creating the podcast for and working with your mentor to hone this person will help you narrow your focus. This will let you produce podcasts that will matter to the audience you're trying to reach.
They've been where you're about to go
One of the main advantages of a mentor is to learn from their experience. Because your mentor has been where you are about to go, he can help you navigate some of the typical obstacles that come with new podcasters. Things like audio quality, interview techniques, and editing are just a few places where a mentor can come in and help you in so many ways.
The other place your mentor has been is when you feel like you just can't keep up with the content creation, or you're not getting the download numbers you expected. A mentor is going to help you get past these roadblocks and will help you see the bigger picture in your podcasting journey.
They know contacts
One of the best ways to get exposure for your new podcast is to get some high profile guests on your podcast and also to be a guest on a high-profile podcast. A mentor might be able to help with both of these.
When you're brand new to space, you might need an introduction or two. A mentor, especially in the same niche you want your podcast in, can open a lot of doors. This shouldn't be the only way you are getting guests or getting on other podcasts, but it does help to have an introduction.
Can help you focus on realistic goals
Too many new podcasters believe that they are going to wind up on the iTunes front page for New & Noteworthy and get a million downloads their first month.
Yeah, that typically doesn't happen.
A mentor is going to work with you on realistic goals for your podcast. He will go back to the avatar and decide goals that are based on the behavior of the audience. If your show is a lead magnet for your website or product, then you shouldn't be as concerned with iTunes rankings. If the podcast is a pure passion project, a mentor is going to help you stay focused on that reason.
The right mentor will remind you that every podcast is different and as such the goals and expectations of that podcaster will also be different.
Where to find podcast mentorship?
There are many places you can get a podcast mentor.
We like Podcasters' Paradise, the community built and managed by our co-founder, John Lee Dumas. John has spoken at length about his journey into podcasting, including having his mentors. This community is a good start.
You may also want to consider joining our free Podcast Websites Facebook Community. There you'll meet podcasters from every corner of the globe, and at every level of podcasting. Plus we offer education sessions and a place to promote your latest episodes.
Attending a conference, like DC Podfest, Podfest.us, or Podcast Movement are also places where you can meet a podcasting mentor.
Did I miss any reasons why a podcast mentor is a good idea? Please share in the comments.
---
Want to learn podcasting growth hacks from experts from around the world like Pat Flynn, Chris Ducker or Guy Kawasaki? Get our free guide here.