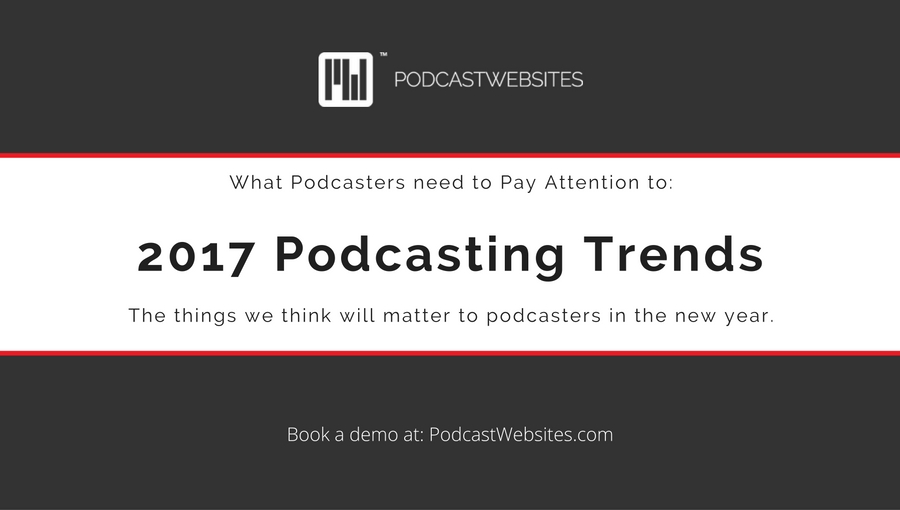 9 Podcasting Trends You Should Notice in 2017
Every year digital marketing experts try to determine trends to look for during the upcoming year. At Podcast Websites, we're no different. We've taken a look at some of the things that have emerged in 2016 and will continue to thrive in 2017. Taking a look at upcoming trends is an amazing way to start planning content for 2017. It will help you prioritize efforts for your podcast creation and marketing. It could also bring forth new ideas to grow your podcast audience and reach.
Here are a few things we have taken notice of that we think podcasters should pay attention to in 2017.
Update: check out these podcast industry stats for 2019 courtesy of The Podcast Host!
There is still plenty of room for podcast audiences to grow
There has been a lot of conversation surrounding the need to develop audiences for podcasters. There is evidence that each year there are significant increases in the number of individuals who are listening to podcasts. According to the Pew Research Center, the audience for podcasting continued to grow in 2016. Twenty-three percent of Americans aged 12 and over have listened to a podcast within the last month. Considering the number of listeners was only 12% in 2013, this is a significant increase. The growth in smartphone technology, as well as iPhones offering a native podcast app, helped to lead the change. We still haven't seen the full effects of the inclusion of Google Play, Spotify, or iHeart Radio for podcasting. With these ongoing changes, the growth of the audience is still enormous.
What does this mean for most podcasters? The audience is still wide open for your content. Less than half of Americans still do not know what a podcast is, so there is plenty of room for audience growth. The smart podcaster is going to recognize this and produce content, including educating potential listeners to how they can listen.
Other suggestions include making sure you post links to your show where individuals can listen to easily – including direct links to your website. Don't be afraid to post about the show on social media. Posts should include reminding audience members how to subscribe and download episodes.
The podcast host emerges as a brand influencer
Another trend to pay attention to is that you as a podcast host are a brand and an influencer. At DC Podfest in November, Sarah Frase from the Hey Frase podcast discussed that advertisers are looking to place products and ads within brands that consumers trust. The brand is, in fact, the podcast host himself. Companies of all sizes are looking for individuals to promote their products in a way that feels authentic rather than selling. The smart podcaster is going to focus on not only growing their audience downloads, but their influence over their podcast audience through email, social media, and other methods.
Plus there is still room for advertising in podcasting because the arena isn't saturated yet and the audience takes action. According to research from the Interactive Advertising Bureau (IAB) and Edison Research, 95% of listeners will take action after listening to a spot. More impressive is the fact that 65% of listeners are more willing to consider purchasing something they learn about through a podcast, according to the IAB and Edison Research. Podcast hosts have an enormous opportunity to monetize using their influence.  Sixty percent of buyers prefer to buy products from companies that advertise on their favorite podcasts, 45% will visit a sponsor's website after listening to a podcast ad, and 43% will consider making a purchase.
Still, don't think you can pull off a full-fledged sponsor? You might want to consider an affiliate relationship. There are many programs and companies you can develop an affiliate relationship with, so long that you disclose the relationship. According to IAB and Edison Research, 60% of podcast listeners want to buy products from podcasts. And 45% of podcast audience members will visit a sponsor's website after listening to a podcast episode where the product was featured. An affiliate relationship might be a good bridge until you are comfortable with your download numbers.
Monetization avenues open for podcasters from offering services
As more people decide to try podcasting the number of services for podcasters continues to grow. Not only are individuals setting up podcasting consulting companies, but entire podcast incubators are opening up to great success. These incubators include coaching, mentorship, and a creation of a community for podcasters looking to push forward.
Another trend we're noticing is the rise of podcasters outsourcing part or all of their post-production efforts. Several podcasters have taken their personal skills of editing and podcast creation and turned that into enterprises that serve podcasters. As more individuals enter into the podcasting space, the increase in demand for these services will open up new opportunities for podcasters to have another income stream from this platform.
Joel Sharpton spoke about this at his PMx talk at Podcast Movement in July 2016. Joel talked about his finding work narrating audiobooks and how other podcasters can do the same. Jessica Kupferman, the cohost of the popular ShePodcast community and podcast, opened her digital agency to help connect would be advertisers with podcasts. Jessica Rhodes saw growth in her company Interview Connections, which is a guest booking service for podcasts. These are just a small sampling of the many different ways podcasters are using podcasting to create income streams.
As podcasting continues to grow, there will be more opportunities within the industry to create new companies, partnerships, and revenue producing opportunities outside of ads on podcasts.
Smartphones becoming the dominant force for mobile buying
Mobile marketing has been the rage in marketing for several years now, but buying from mobile devices is set to grow to 65% of the American marketplace in 2017 according eMarketer. This is up 58% from 2016. The reason is that more and more smartphones give options like larger screen sizes and faster connectivity. Companies have fully embraced the mobile trend, and sites are finally mobile-optimized.
This trend is perfect for podcasters to take advantage of because 71% of podcast listeners listen through a mobile device according to Edison Research, compared to 29% who listen via a computer. The trend is to increase the number of mobile buyers and to connect them with podcasting.  Advertisers will be looking for content that is designed to live on mobile platforms, and podcasting is a perfect fit. Having the ability to purchase from the smartphone will increase the demand for more advertisers to seek out podcasts as an advertising method.
Live stream continues to grow
Live streaming has been growing since 2015 with the additions of Meerkat and Periscope. While still new, once Facebook Live entered into the picture live stream has become the content marketing darling. Snapchat and Instagram Stories also offer the ability to live stream in smaller dosages.  The challenge is how to apply it to use in your podcast growth.
Our own Mark Asquith has been hosting Academy Study Halls in our Podcast Websites Facebook Group each Monday.  There Mark directly addresses users questions and goes over features and benefits of the Podcast Websites system. Michael O'Neal hosts a weekly live stream on Facebook where he takes audience questions and then he reuses the audio for his show. Harry Duran from Podcast Junkies uses live stream to talk directly to his audience about the show and future guests.
What all of these have in common is that they are using live streaming to connect and extend their podcasting brands. This trend isn't likely to go away. Smart podcasters are going to find ways to add it to their marketing efforts to increase audience connection.
Customization of content becoming more customized
Customization of content is becoming increasingly important in many respects. Not only because there are so many options for consumers to get content, but because businesses are trying to get to the particular niche they're looking to sell to.
A trend that emerged in 2016 that will continue in 2017 is segmented audience segments to deliver customized content. Email service providers like Aweber and Convert Kit are making it easier to tag subscribers based on actions on your website. According to MailChimp segmented campaigns performed markedly better than their non-segmented counterparts, including a less than 10% unsubscribe rate.
Audience segmentation isn't just for emails, Podcasts themselves are starting to organize and niche within themselves. Many podcasters are experimenting with using seasons, taking one theme over the course of multiple shows. This niching within podcasts themselves allows for better discoverability because it goes with the trend of customization of content. Podcasters who can figure out how to successfully organize their content into chapters or seasons are going to be leading this trend.
Native advertising will continue to grow
Remember the section above about the podcaster becoming a brand influencer? This will continue through the practice of native advertising.
Native advertising is when the ad matches closely to the platform it's being offered. For podcasts, this means the host is reading the ad as part of the show rather than breaking for an ad break. Brands like Blue Apron, Casper Mattresses, and others are using podcast hosts as brand ambassadors to talk about the products. Because the podcast audience is apt to purchase items from individuals they trust, many brands are looking for placement on podcasts that fit their audience avatar.
One example is the highly successful company LootCrate, one of the fastest growing businesses in America. LootCrate is a monthly subscription of geeky novelty items. The company has found success on podcasts like Trivial Warfare, a podcast where the hosts play against each other in trivia. Jonathan Oakes, the host of the show, started running ads for LootCrate the last week of March 2016 and managed to convert 198 sales in that one week. That was roughly 10% of the audience at the time. The next month they had 17 sales, and in May they turned 11 more. Jonathan decided to stop running the ads during the summer because he felt his audience had enough exposure to them and that it would be more effective to give it a rest and then come back in 6 months or a year and run another big cycle of the ads.
At first, Jonathan believed the style of the ad was the reason for success. He read a long ad set within the show that talked about LootCrate, the value, and why he loved the product. He wanted to give his audience all the reasons why they should purchase the product. His audience accepted the ad and even post about their crates within the Trivial Warfare Facebook Group. Jonathan is clear that not all native advertising works on his podcast, he tried the same approach with a different company without the same success. Jonathan believes that the right product for the right audience is the reason for the success.
Storytelling still important and might be here to stay
2015 was described as the year of the storytelling podcasting. It's no wonder with the arrival of Serial and all its clones. The trend hasn't gone away. In fact, other podcasts are starting to move towards doing more storytelling in their creation. Podcast Movement commissioned a podcast called Podcast Movement Sessions. This podcast is where the stories behind the sessions at Podcast Movement were told. The show was so successful that the creators Dan Franks and Jared Easley commissioned another season of Podcast Movement Sessions to premiere in later in December 2016.
Major media companies are also getting into the storytelling podcast model. ESPN, already with a successful lineup of podcasts, announced in September 2016 that they would be spinning off from their already successful 30 for 30 line up with a 30 for 30 podcast. This podcast isn't going to be a repurpose of episodes already created for television, but original stories created for narrative audio.
The New York Times took it's popular Modern Love column and turned it into an acclaimed podcast in March 2016. The Modern Love Podcast features a weekly host who sets up an essay that was written for the New York Times Modern Love column but read by a celebrity like Sarah Paulson, Colin Farrell, and Jason Alexander. While not original content, the essays read by the celebrities narrators brings new attention to the column and has been very successful.
Binge watching will help podcasting so long as podcasters create binge opportunities
Stranger Things, The Crown, and other shows on Netflix have increased the public's need to binge watch their favorite shows. This trend will continue with podcasting with podcasters experimenting with the release of an entire season of shows at once.
Podcast Websites founder Mark Asquith is experimenting with this model for his popular Excellence Expected Podcast. After 150 weekly episodes, Mark took a break and refocused his efforts on organizing topics into sections so that his audience could quickly find the content they wanted. Now for his new episodes, he's focusing on one topic and releasing all the episodes at once, just like a Netflix series.
Other podcasters are already experimenting with the audio binging, including organizing favorite episodes into playlists on their podcast websites.
2017 could see major brands experimenting with this binge listening idea as well.
These are just some of the trends we see emerge for 2017. Did we miss any? Is there a trend we listed that you think isn't going to be as popular in 2017 as we believe will be? Let us know in the comments or in our Facebook Community.
---
Still Need Help Getting Your Podcast Started?
Podcast Websites is your all-in-one solution to turn your passions into podcasting success. With our platform, you'll get a WordPress ready website, podcast hosting, and support for one monthly price. Find out more by scheduling a one-on-one to find out more.
Ready to monetize your audience & become an audio influencer?
Podcasters all across the world are transforming from simply producing audio to becoming a monetised, influential brand with Podcast Websites. When you're ready to become an audio influencer in your niche, we're here for you.
Ready to monetize your audience & become an audio influencer?
Podcasters all across the world are transforming from simply producing audio to becoming a monetised, influential brand with Podcast Websites. When you're ready to become an audio influencer in your niche, we're here for you.