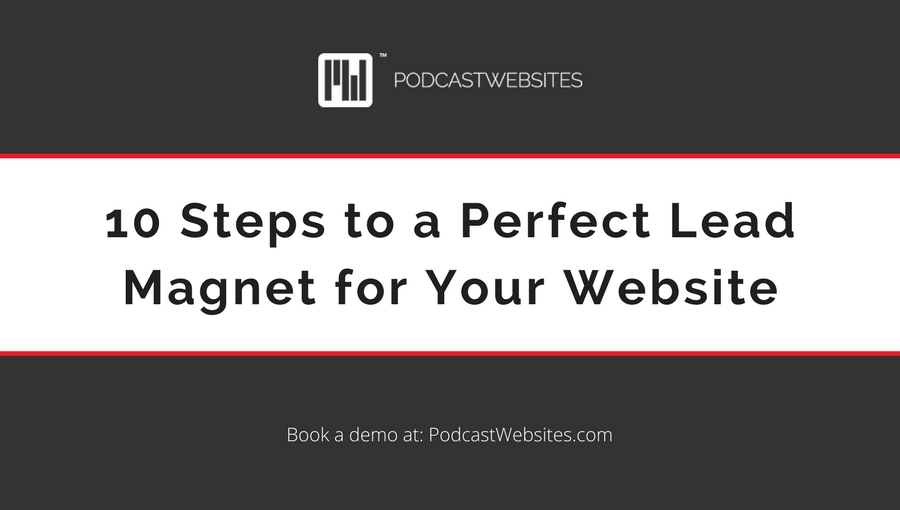 10 Steps to Your Perfect Lead Magnet Opt-In
If you've been in the online business space long enough you know what the word opt-in means and what it's designed to do – grow that email list. The email list is the Holy Grail of online business and brand building. And if you're planning on starting a podcast and growing a podcast then you're also in the building a brand business. It doesn't matter if you're podcasting about Bonzai trees or entrepreneurship, every podcast, and its podcast website should have at least one premium lead magnet that is a direct extension of your brand. When people get their hands on it, or listen to it, or watch it, it needs to immediately make them feel like, yes this is who this company and brand are.
A great lead magnet can launch your brand to new heights if you do it the right way.
The growing noise of the lead magnets
There are a lot of lead magnets in the world and because of that, you might be thinking that you can't offer anything of value to the space because so many other people are already offering the same advice.  This is the wrong way of thinking, instead you need to think not how to create a good lead magnet or opt-in but how to create the great or epic opt-in.
It's not enough just to create a free report anymore because everyone has a free report. Everyone is using a downloadable guide, checklist, webinar, or challenge series. What you need to do is invest the resources into the most awesome, killer, huge lead magnet you can produce, but where do you start?
That was a question our team at Podcast Websites had to answer when putting together our first e-book The Little Orange Book of BIG Podcast Growth Hacks. We knew that so many other companies already had content about this topic, but we knew and wanted to put something together that was epic and would be the foundation to build other pieces of content to create a legacy of education and fantastic design. When we decided to create our opt-in we wanted it to feel like Podcast Websites, inspirational, with great design, and with amazing content. It wasn't enough just to get a free how to create a podcast out there – no we wanted to create an opt-in that would break molds, that would make even the seasoned content marketer take a second glance.
We wanted to create something so amazing that people would need to get their hands on it.
Thus, the Little Orange Book of BIG Podcast Growth Hacks was born. An e-book from some of the best content marketers from around the world in one place, offering smart solutions to getting consistent content growth out there. We're thrilled it's complete, and we're already working on part two, but just putting the guide out isn't enough. At Podcast Websites one of our hallmarks is the education we provide to our members and the podcasting community as a whole. We offer our monthly Academy Sessions, weekly blog posts, and Facebook Live study halls. And we know many of our members and the podcasting community would love to put together their epic guide. It's often the how to get started that stops so many people from getting this type of project not only off the ground but completed. So why wouldn't we go through the logistics of how we created the Little Orange Book of BIG Podcast Growth Hacks step by step so you could learn how to build your fantastic guide? We've broken down the project step by step so you could learn how to build your fantastic guide.
Step 1: Determining why you need an opt-in in the first place
Have you ever visited the ice cream shop called Cold Stone Creamery? They specialize in ice cream that you can customize with a ton of different mix-ins to create a custom ice cream flavor all your own. They start by having smooth ice cream in flavors like birthday cake and mint lined up in the case. The staff members ask you what you want your base to be, and sometimes it's hard to choose. This is when the staff member gets a little red spoon and give you a sample of a flavor of ice cream. You can try as many flavors as you wish, collecting little red spoons until you decide on the one flavor to build your perfect ice cream cone.
Your opt-in is your business's little red spoon.
The opt-in gives your potential customers the chance to try you out without a long commitment. This is, of course, ideal for them because all they have to do is trade an email address for the free content. The opt-in is ideal for you, not only because it allows you to grow your list but it allows people to try you and your company out before investment. You want this because it will, hopefully, lead to fewer returns and more buyers that truly are your targeted customers.
For us at Podcast Websites, we focus not only on great design but education – and it was these two keys that we wanted to share with potential customers. We want them to know that when they sign up for our service, they are supported and encouraged throughout the entire journey of creating and growing their podcast, and not just in the beginning while they are brand new. No, we always want to provide value and growth opportunities to make our podcasters the best in the business. We needed a way to show this to people who may have never considered adding a podcast to their content marketing mix. After all podcasting from the outside can seem like a lot of work, and it can be, so anytime we can offer education that will help our podcasters move to better systems or more downloads we're honoring not only our commitment to them but our core values. For the opt-in to work, we had first to decide how we were going to use the product to increase the leads that want to be better podcasters.
Step 2: Determine how you'll use the guide
The first phase of the construction of a great opt-in is to identify what you need the opt-in to do. While you may be able to use it for many things, it is important that each opt-in, each piece of content have at least one primary purpose.
This opt-in was originally suppose to accompany a podcast Mark Asquith, the co-founder of Podcast Websites and I wanted to produce called the Digital Marketing Academy Podcast. The podcast was going to be an interview based show where we would bring some of the best digital marketers from around the world on to discuss ways small businesses and podcasters can grow their digital audiences. To go along with the podcast we wanted to create a guide about digital marketing that we could use as an opt-in. This was in December 2015 with the goal to have the podcast out by February 2016.
We had recorded episodes of the podcast, but we faced delays early in the project. First, I had to take some time off for a family emergency, and then the entire team needed to focus on the rebranding of Podcast Websites. By the time we looked we were a few months away from New Media Europe and Podcast Movement. We needed to completely focus on those two events which happened in May 2016 and July 2016. Finally at Podcast Movement Mark and I had a frank discussion about the podcast and asked a question a lot of podcasters skip: did the world need another marketing focused podcast where experts are invited to speak? For us, because we couldn't come up with an angle that was unique and distinctively aligned with our brand, the answer was no.
But we had already begun to work on the digital opt-in for the podcast. We had already had several significant contributions already submitted. We refocused and decided to build the guide for Podcast Websites in general.
So this guide's purpose was to introduce more people to Podcast Websites. Now that we determined that it was time to create specific goals around the opt-in.
Step 3: Deciding the aims of the opt-in
The second question you need to ask when creating an opt-in is what is the purpose of the opt-in. Yes, the majority of opt-ins are designed to build an e-mail list, but that doesn't have been your sole purpose. You can set a goal to use the opt-in to highlight your expertise in a field or to promote your values and ideals. For Podcast Websites the opt-in is to not only show that we understand how to build successful podcasts and websites but that we understand design and branding, a hallmark of our service to our members. It wasn't enough to have the guide to build an email list – we could've just gathered the advice from our contributors and made a simple PDF. Instead, we used our outstanding in-house design team to create a high-quality book that matches the tone of Podcast Websites.
The goal of the digital guide was to show our potential members that we understand how to grow a podcast audience and that we know how to make things beautiful. These are two of the most asked questions from our members, so this guide's intention is to help ease people into knowing that we're the experts in podcasting for these two key areas.
Another goal was simply to shake up what podcasting hosting companies were offering – it's not enough to just provide hosting. There should be mentorship, education, and support from podcast concept to execution, at least that is what we believe at Podcast Websites.
With those goals lined up, we knew we would have to bring out our A-game with this guide. We would need an all-star line up of contributors and even more importantly the right format.
You must have a goal associated with content like this – especially because of the time and effort involved in creating an e-book of this quality. Without the goal, your efforts won't be specific or measurable, and you'll probably not get the results you're ultimately after. Understanding the goals of the opt-in will help you move to the next step, deciding the format of your guide.
Step 4: Deciding what format for the opt-in
When we set out to create the Little Orange Book of Big Podcast Growth Hacks we knew we wanted to create an opt-in that inspired podcasters to think about growing their podcasts in new ways. There are several popular types of opt-ins we considered creating: a mini-course on planning a podcast using video, a free invitation to one of our Academy Sessions, a branding building guide. Mark and I decided on an e-book because we knew we could easily produce a high-quality looking e-book in-house.  We had other criteria as well:
It would highlight great knowledge, something that would make an impact in the person's content creation.
The guide would use the resources we have on hand at Podcast Websites – including relationships with content creators, our design team, and our website software.
It would look and feel like Podcast Websites – meaning the information had to be worthy of our brand name, and the book had to look freaking fantastic.
To build the guide we knew we needed an A-list of digital experts from not only in the podcasting world but in content creation in general. We needed to invite a few of our friends.
Step 5: Who we invited and why to contribute to the opt-in
Our Little Orange Book of BIG Podcast Growth Hacks began with the question: "What is the one piece of digital marketing advice you would love to share with our audience?" Again remember this guide was supposed to accompany our Digital Marketing Academy Podcast, so we never changed the question.
Mark and I each made a list of people we would want to reach out to contribute. There were, of course, familiar names like Podcast Websites co-founder and the creator of Podcasters' Paradise John Lee Dumas, we wanted Smart Passive Income's Pat Flynn and the host of the Solopreneur Hour and co-host of The Hines Ward Show Michael O'Neal. Because Mark and I each had professional relationships with these individuals, we knew that we could get their contribution. But we went after some big fish too, like digital evangelist Guy Kawasaki and Foundr Magazine's Founder Nathan Chan. Then we decided to extend an invitation to great content marketing experts that folks might not have heard of, like Dan Shure from Moz SEO and Jennifer Priest, a popular craft blogger. 
We sent emails and Facebook messages to most of the contributors. A few, like Pat and Chris Ducker I asked while attending Social Media Marketing World in San Diego in April 2016. There were a few people who turned us down – or said they wanted to contribute but never followed up. Because of this we over invited on purpose and made sure to find people from all over the content creation space. This ensured that we would have quality submissions.
Step 6: How we gathered the information for the opt-in
Google forms turned out to be a godsend. While some for of our experts we gathered the information from emails or directly, most used a Google form we created which allowed us to have the information imported immediately into a spreadsheet. This was a crucial step because the spreadsheet was sent to our full team to review and use in the actual creation of the guide.
The Google form included space for the contributor to include their headshot. These were downloaded into a shared Dropbox folder. Now for some of the contributors we allowed them to send in their contribution simply and we added them to the sheet. It was my responsibility to follow up with contributors with emails and messages. I would follow up every few days up to three times.
We had a clear cut off point that we emailed out one last time. Those individuals that submitted after that deadline have been saved for a future project.
If you're building an opt-in with contributors, it is so important to have clear deadlines and a system for following up. Most contributors are so willing to share their information if you make it easy for them. Don't make the form long and complicated – only ask for the information you vitally need. They will be more likely to contribute something great.
Step 7: The creation process
Once we had gathered all the information it was time to bring in the graphic designer, Dan O'Cock. Dan is the creative force behind our brand, and there was no one we trusted more to bring this book to life. Because I'm in the United States and Dan and Mark are in the United Kingdom we used Slack to communicate and share files. Slack is a tool that has become invaluable to the entire Podcast Websites team and we highly suggest it for you to use with your virtual team.
In the Slack channel, Mark posted specifics about what he wanted the book to look like with an emphasis on it retaining the Podcast Websites brand standards.  What we had to decide upon as a team was:
The headline and strapline for the book
The calls to action within the book
The final due date for edits
Once Dan had the brief – which included the term "shit-hot cover" he went to work. Because Google Forms had all the responses submitted to a Google Sheet it was simple for me to send Dan all the information. Looking back I realize that Dan used the exact order that was on the sheet, this is important to understand when working with a graphic designer – his job was to make the content gorgeous, my job was to ensure the content is in the right order. You will speed things along when working with a designer on the first few projects if you're very specific with your directions and give him everything he needs in the order you want it. It is much easier to make changes to the content while still in the original form.  The other thing to help things along is to create a project assets folder in Dropbox that has every photo or image you want to be included in your opt-in.
Before Dan did the first full book, he created a few pages as a draft which was looked at by our whole team to see how we felt about the typography, the spacing, and the overall tone of the pages. This is what's nice about working with a professional designer – he got our vision right away and other than adding the headshots of each of our contributors the pages were ready for final edits.
Step 8: Final edits
During the final edits, it was a frantic few days of messages between Dan, Mark, and myself. First, there were still a few headshots and urls missing from our contributors. I got those to Dan quickly. Then Dan had the brilliant idea to call it the book The Little Orange Book of BIG Podcasting Growth Hacks. The orange came from our brand standards, and Dan pointed out that it gave the guide a textbook type feel that could be duplicated for other projects. A brand within a brand was born.
We went through eight versions of the book before we ultimately signed off on it. One of the biggest challenges was getting the right photo with the quote – we wanted the images to be aspirational as well as gorgeous. This meant some serious research by Dan to find some great pictures.
Finally, Mark and I looked through the guide for typos, misspellings, and anything that felt off. Then he wrote the introduction and the guide were ready for distribution.
This step is really important for a few reasons, you as the creator need to be comfortable saying to your graphic team if something doesn't feel aligned with your brand. This step isn't just about catching typos, its going to ensure that the opt-in you're creating works within your brand and image. Don't rush this step.
Step 9: Distribution
One of the most important steps is distribution – and one you shouldn't wait until the end of the journey to consider. There are so many ways to distribute this guide and there were groups of people we knew we wanted to reach.
The first was the contributors themselves – we wanted them to see the quality of the guide and to see who their fellow contributors were for this first guide. I emailed our contributors with a copy of the guide for themselves. Several sent it to their lists.
Next, we sent the guide to our original Podcast Websites community members – we made this guide for them and to grow their efforts. They were the inspiration for this guide because many of them ask within our Facebook Group how to grow their podcast.  Our community deserved first access. We sent an email using Aweber to our existing list.
Another thing we did was creating a landing page using our Builder Foundation theme on PodcastWebsite.com. We also created an autoresponder with AWeber to send it quickly to new people signing up for the opt-in.
In the beginning of your goal setting step, you need to think about how you're going to distribute your opt-in. Will it be sent by email? Live on a secret landing page? Will you send it directly to your list as a thank you? Go back to the original goals of the opt-in and pick a distribution plan that makes sense to support the target.
Step 10: Promotion
Promotion and distribution are like peanut butter and jelly – both are good on their own but delicious together. Once you have your distribution plans in place, you need to figure out how to drive traffic to the guide.
For us, we have a vibrant Facebook Community where we announced the creation of the guide. We also sent another email to our followers and added the guide as part of our overall social posting plan. The other thing we did was use it as a call out in specific blog topics. This is an evergreen guide so promotion can be ongoing.
The key to the promotion of an evergreen project like this is to change up the messaging, the wording, even the calls to action to make it appear new. It's okay to pull quotes directly from the book itself, tag the contributors on social to reach their audiences, and even create more content around the epic guide you've just put together. The point is you as the creator can decide to put out the guide and hope and wait that people will discover it, and with enough time that could happen. Or you can be smart about it and promote what you've built because at this point you should be so proud of what you've done that everyone needs to know about it!
You've got the steps now what?
It's time for you to get to work. You need your epic lead magnet, and we've given you our roadmap. The only things that are in your way are excuses and fear. During this process, you will find reasons as to why you can't finish the opt-in. The dreaded impostor syndrome might rear its ugly head or a competitor might release a guide similar to the one you're building, and you become worried that no one will care for yours.
Stop worrying and just get it done!
If you are truly an expert in your subject, then you have an obligation to share your knowledge with the world – and the lead magnet should reflect this. Put your effort into this, make something spectacular and share it with the world. If something doesn't work, you can always go back and issue a new version. And here is the real bonus about getting your first big opt-in done, the framework is available for an epic sequel that might be better than the original version. It worked for the Godfather.
We can't wait to see what you come up with, so if you're working through our ten steps to an epic opt-in, we want to know how you're doing. Pop by our free Podcast Websites Facebook Community and share where you are in the process. We have over 2,000 members who are eager to offer suggestions or brainstorm through challenges.
---
Want to learn podcasting growth hacks from experts from around the world like Pat Flynn, Chris Ducker or Guy Kawasaki? Get our free guide and let us know what you think of our expert crew of podcast and content marketing greats.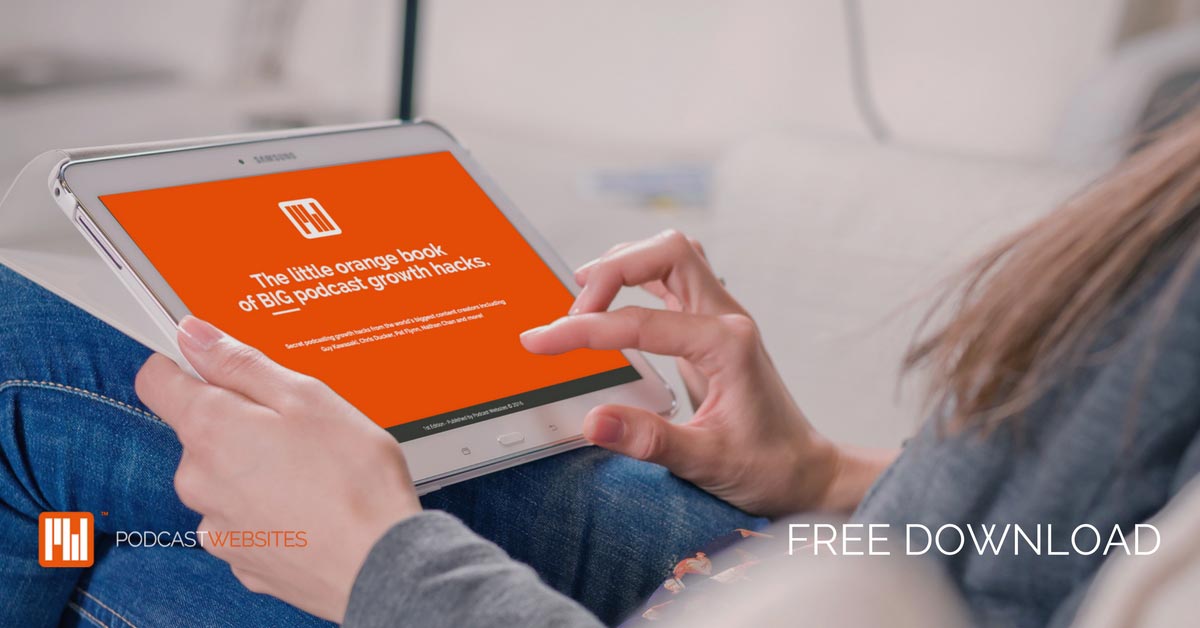 Ready to monetize your audience & become an audio influencer?
Podcasters all across the world are transforming from simply producing audio to becoming a monetised, influential brand with Podcast Websites. When you're ready to become an audio influencer in your niche, we're here for you.
Ready to monetize your audience & become an audio influencer?
Podcasters all across the world are transforming from simply producing audio to becoming a monetised, influential brand with Podcast Websites. When you're ready to become an audio influencer in your niche, we're here for you.