Why We're Excited About Podfest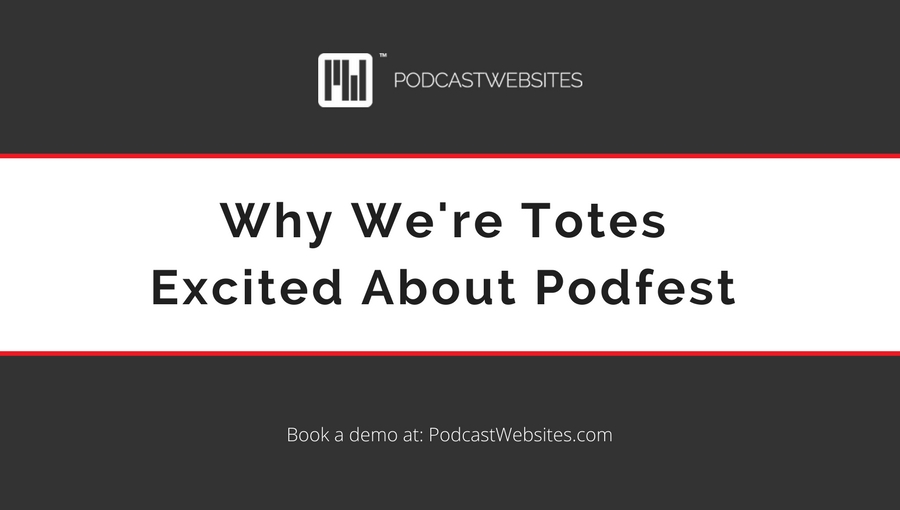 Podfest Multimedia Expo is quickly approaching, and we know a lot of our Podcast Websites members are planning on making the trek to Orlando, Florida for three days of podcast and multimedia education. Conferences are always an amazing way to connect with other podcasters. We highly recommend that you try to attend at least one of the major conferences on podcasting this year. It will allow you to meet some of your heroes, connect with podcasters you might listen to, and give you the opportunity to meet individuals that could later become your best friends.
I should know, it was by attending a conference in Las Vegas in April 2015 that I met Mark Asquith. He is the one who gave me the idea of Sports Gal Pal as a podcast and later he invited me to be part of the Podcast Websites team. Had I not attended that live event my life would be completely different. I wouldn't know about podcasts or the amazing community of podcasters.
Now while I can't promise that you'll meet a new best friend that will offer you a dream job if you attend Podfest, I can promise that you won't regret visiting.
The history behind Podfest
Podfest is the brainchild of Chris Krimitsos. In 2013, he held a podcasting workshop that was only attended by 13 people, but he was inspired by his co-host Steve Cherubino's personal podcast episode numbers of 4,000 listeners per episode. Chris realized the real power of podcasting and starting to become a staunch supporter for the medium. In 2015, Chris and few hundred people held the first official Podfest. Since then it has grown into one of the major conferences for podcasting. It is expected that over 500 people will be attending, making it one of the largest conferences in our industry.
The networking opportunities
What makes Podfest different is that it is a real community behind the event. Many of the presenters this year were first attendees and organizers. The focus of the conference is the independent podcaster who might still be starting his podcasting journey or ready to grow into new opportunities.
The people attending this conference have either been where you are or are currently in your same position. This conference will allow you to connect with your peers in a personal way than online allows. You'll be eating, learning, and having fun with people who understand the terms downloads, RSS, and double ender. There will be opportunities for you to pick the brains of some of the brightest minds in multimedia, people you've probably listened to on a podcast or webinar. This type of one-on-one interaction is priceless and can lead to great opportunities if you take advantage.
Chris and the team understand the importance of networking, and they are providing plenty of possibilities to build new relationships.
The education opportunities
This year Chris and the team are adding tracks on multimedia including crowdfunding projects, YouTube audience developing, and why blogging and podcasting do belong with each other. Here are the four tracks:
Monetization – including sessions on how to use your podcast to promote other products, how to create a listener-supported podcast, and how to build a network around your niche
Audience Building – including sessions on storytelling, booking great guests, building a great podcast team, and how live streaming can grow your audience
Technical – mic and headset roundup, a question and answer table, and editing classes
Multimedia – how to promote and cultivate a conference, how to crowdfund a project, and how to build a YouTube audience
Where Podcast Websites will be during the conference
I am personally excited to be attending the conference as a representative of Podcast Websites. I will be presenting two talks. The first on how to engage a podcast community with my friend and fellow podcaster Jonathan Oakes, and why blogging and podcasting work together with Jonathan Milligan. Both of these sessions are my way of giving back to the podcasting community.
Tons of fun
While the education and the networking are great, Chris and his team also remembered that conferences should be fun! They are hosting the first annual Pazzie Awards, a poke fun at some of the silly side of podcasting. There are also plenty of time to catch dinner or drinks with some of your podcasting friends. Plus we'll be in Orlando! Hello, Disney World and Universal Studios! The resort looks awesome, and there is the premiere of The Messengers: A Podcast Documentary.
If you want more information about this event, check out Podfest.us for more details. And if you're going to attend then we would love to know about it. Join our free Facebook community and tell us why you're excited to be participating in Podfest!
---