The Case Against Focusing on Podcast Downloads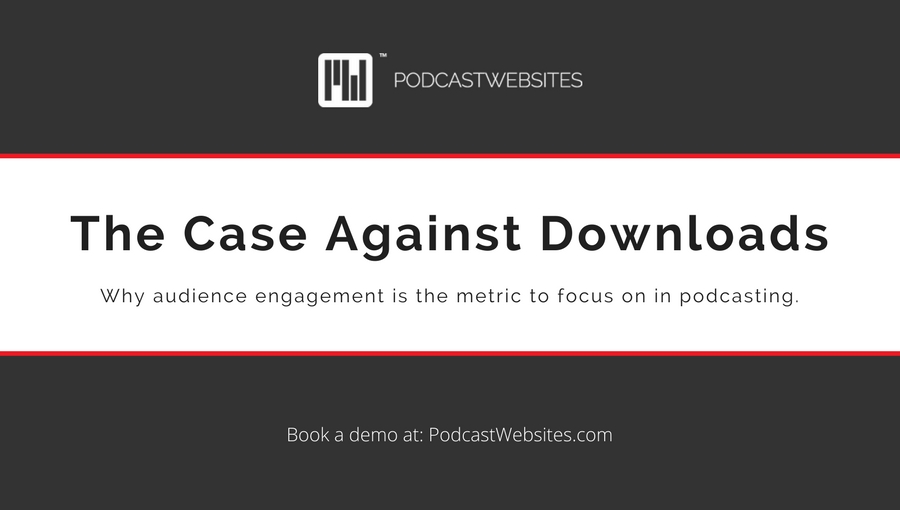 There is an epidemic in podcasting, and it's been around since I started a few years ago. The need to talk about downloads. I'm talking a consistent, mind-numbing conversation about one metric only in the podcasting space. Every to do with downloads including:
How to increase downloads.
Why downloads matter.
All the reasons that downloads are the life blood of podcasting and are the most important thing after asking which microphone you should use.
Ugh.
Okay I get it, downloads are necessary, and podcast producers love having a lot of them. It's one of the only metrics that appear to matter in podcasting because it is somewhat standardized and it's typically easy to measure. Downloads seem to be the link between turning a podcast from a thing you record in your closet to an actual money making operation.  The download conversation is so important to podcasting that if you poke your head in enough podcast Facebook groups, you'll see something like these statements:
"Can anyone give me some insight on how much revenue a typical, or average 60-second commercial can garner? I have not launched yet, so do not have subscriber or download numbers yet."
"My podcast has only been out for 3 months, and I've gotten 5,000 downloads!"
"Do unique downloads matter more than those over time?"
And so on and so on until all that seems to matter is downloads, downloads, downloads.
I have something I want to shout to the rooftops for podcasting everywhere:
Stop talking about downloads! 
I'm down on downloads! I'm sick of hearing about them because unless I'm planning on being a sponsor of your show or if you happen to have your podcast hosted with Podcast Websites (and if you do thank you!) then I don't care about your downloads. After all, one person's 5,000 downloads is another person's 200. Comparing the two is like comparing pineapples and tomatoes, they are both fruit but serve vastly different needs and tastes.
A comedy podcast with less than 500 downloads an episode might not be a success, but a niche business show may be killing it with those numbers. It mostly depends on your personal goals and needs from your podcast.  So talking about downloads with anyone outside of your very particular niche, in your industry, and outside of your hosting company is pointless.
The thing most people entering the podcasting industry need to start realizing is downloads are not the only way to measure success in podcasting. While they may be necessary for getting sponsorship, and recognition in certain areas of our industry, downloads should never be the only factor in deciding if a podcast is successful.
Measuring success in podcasting
One of the most amazing things about podcasting is the diversity in shows, formats, hosts, and any number of factors. So why would anyone try to measure success on one metric?
Let's look at it from this angle. Some shows do not want sponsorship or advertising, or could benefit from a sponsor but aren't concerned with it.  Sometimes this is because they don't want to pursue this option, or they find that being a listener sponsored show is a better option for them. The downloads are a by-product of great listener engagement.
Some individuals start podcasts as another method of reaching an audience. They see the podcast as an extension of their content marketing plan rather than the product they are selling. The downloads are just one metric they'll look at for success. Instead, they might focus on opt-ins or calls to action they talk about during the show to determine success.
The host wanted a podcast like the one they are creating because there wasn't anything like that in the marketplace. They are creating a show they want that isn't available. Their first thought isn't necessary downloads but producing a show they and their friends would love.
And yes there are those podcasters who create a podcast wanting to make money directly from the podcast and never do because they lack one critical component that the other podcasters in my examples seem to get.  No amount of downloads can replace, an engaged audience.
The engaged audience trumps downloads
For myself the interested audience trumps downloads and if more people looked at it this way podcasting as a whole would be better. The focus would once again be on the content and not the last step of the process, the audience subscribing and downloading the show.
What I would love the podcasting community to focus on is a thing that can't be measured easily, but I believe way more important an engaged audience. An engage audience is a game changer for any podcast – even those with less than 1,000 downloads per episode. The engaged audience member is likely to:
Share your podcast with their sphere of influence
Use products and items you suggest – a key for would be sponsors
Are willing to participate in Patreon
Actively participate in your calls to action
Focusing on engaging the audience is one area that will actively increase the chances that you will also increase downloads.
Unfortunately, there is no precise measurement for audience engagement across the industry. It's one of those metrics that is peculiar to the podcast and niche more than as an industry as a whole. It is far more important, especially in the beginning of a podcast. To have an engaged audience, you must focus on the following.
Great content first
If you have a boring podcast, no one is going to want to listen. You need to take the time to develop content that matters to your audience – no matter how small. It needs to be content that is relevant, that educates, inspires, and compels the listener to want to tune in each time an episode is published.
Too often podcasters skip this step – and sometimes it takes some time to build a content plan that works for the podcast. You might have to change the format, change production values, or something else to bring more of the audience into the show.
High Production Values
Listen to enough podcasts, and you will start to notice who records with standards and who doesn't. You have to start with a quiet, as sound-proof as possible recording space. Your equipment doesn't have to be expensive but of good quality. Taking time to edit and standardize the sound matters.
If your podcast is unlistenable, you won't engage the audience enough to want them to download you in the first place.
Consistent Episode Publishing
The way to build audience engagement is to feed their desire to listen to your podcast on a regular basis. If you publish episodes weekly on Thursdays, then you need to make sure you have episodes done and ready for Thursday. You can accomplish this by batching episodes, if you're able, or set aside enough time each week to ensure post production gets done in time for you to have that episode out by Thursday.
Want more information about this subject?
Audience engagement is a topic I care so much about that I am speaking on it with my friend Jonathan Oakes from Trivial Warfare at Podfest this month. Jonathan focused on engagement of his audience, and now he has one of the top podcasts in his niche in the world. Click here to learn more about Podfest.
Also, can't make Podfest? Don't worry we have our free guide The Little Orange Book of BIG Podcasting Growth Hacks available for you. In it, we have asked some of the best podcasters and content marketers from around the world their tips for helping grow podcast audiences.
---
Want to know how to learn the Art of the Podcast Interview? We were honored to invite Michael O'Neal to a public Podcast Websites Academy session where he teaches his best tips and tricks for getting the best interview possible.