Highlights from Podfest 2017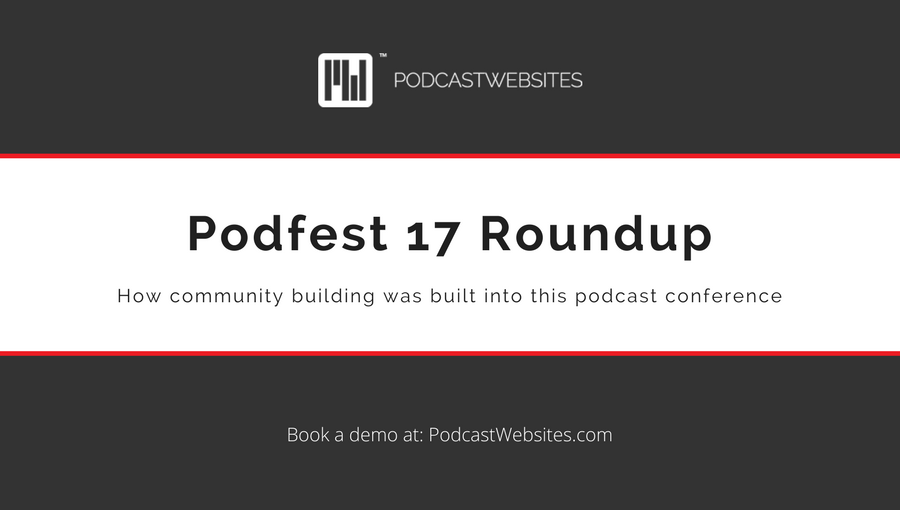 I love getting together with podcasters and this past week I got to spend three days with some incredible podcasters at the 3rd annual Podfest Multimedia Expo in Orlando, Florida. This conference focuses on the independent podcaster and content creator, and the sessions ranged from audience building to multimedia platform building.
Podfest started as a locally based group of podcasters in the Tampa, Florida area that wanted to help other potential podcasters get their messages out. The event grew, adding more attendees and contributors organically from all over the world. Chris Krimitsos, the Chief Creative Officer of Podfest, feels that this event has grown out of word of mouth, which he considers the greatest advertisement in the world. Chris wrote in his welcome letter in the conference guide, "the key in all of this is to focus on your community and build your goodwill. As the right opportunities come along, make sure to broker deals that fit your culture."
Wednesday workshops
Focusing on your community was a constant theme throughout the conference which kicked off on Wednesday with two workshops designed to help either brand new podcasters or experienced ones. The Podcasting Start Up Workshop, hosted by Desmond Adams, Jeff Brown, and former Podcast Websites Academy speaker Shawn Smith was one option. This workshop was chop full of ways to help the new podcaster find success in workflows, formatting, and being able to take their shows on the road. The other workshop, Podfusion, was hosted by She Podcasts founders Elsie Escobar, and former Podcast Website Academy speaker Jessica Kupferman. This workshop highlighted ways to bring storytelling into your show, interview skills, and sponsorship and monetization that benefits all partners involved. Podcast Websites was thrilled to be one of the sponsors for the Podfusion event. There was also the Pecha Kucha event with 18 speakers who got six minutes to showcase 20 slides for 20 seconds each.
Official kick off and building alliances
The conference officially started with an opening event called the PME17 Strategic Alliance. This event had each attendee meet close to 50 other members of the conference with specific questions created to spark conversation and to create relationships. What was neat was that personally, I met podcasters and potential podcasters that I probably wouldn't have had the opportunity to speak with, so this was fun.  This event was broken up with speeches from people including Lily Wong, Glenn the Geek, Dianne Daniels, and myself. The Strategic Alliance was an excellent way to quickly meet new people and set a great tone for the entire event.
The many ways to build communities from podcasting
Great sessions led by some of the leading podcasters in the independent space filled the first day of the conference. Danny Pena from Gamer Tag Radio led a great keynote speech about 'How to Build a Rock Solid Community.' Danny gave specific things he did in the early days of Gamer Tag Radio as suggestions to the audience. One thing Danny and his crew did was attend midnight releases of popular video games, and they would hand out flyers about the show. This old school method allowed him to build an active community that adores him and the show. "You can't wait for the community to find you, you have to find them," said Danny. By doing this, he says that the community becomes his advocates. The key is meeting the listeners and potential listeners in real life.
Gabe Hobbs, from Gabe Hobbs Media, went over some key facts and specifics showing the growth of advertising and listenership over the past five years and the trend for podcasting going forward. Some of the major points I found impactful were: there is an equal number of men and women listening to podcasts, traditionally they are well educated and have a higher than normal average household income than most Americans. The average podcast listener will listen to 4 hours while those then listening to traditional AM or FM radio listen to an average of 13 hours. The biggest challenge facing podcasting according to Gabe is that there is still a lot of individuals who do no know how to listen to podcasts and are unaware of podcast apps. One suggestion to counter this is to create a video and how to guide to show exactly how to subscribe to the show.
There were two keynote panels on building a podcasting network and monetization. On the Building the Podcast Network there were several suggestions of different ways to build a profitable network. Gary Leland, from the Fast Pitch Radio Network, uses podcasting to promote his businesses discussed that all of his shows about softball are on one RSS feed. Glenn the Geek from the Horse Radio Network instead has each show on a different feed and has outside sponsorships. Both of these men are considered pioneers in the podcasting space and have taken very different approaches to creating a network that serves their monetary and audience needs. There were also some newer network creators including Ryan Gray who suggested looking for content partners as another easy way to produce and distribute content. He said to approach trade magazines or blogs and see if you can create a show where you share that content.
The second keynote panel was about monetization. Jessica Kuperfman highlighted that it's great to find the niche and go after that sponsor. She used an example of a fishing podcast that might not have millions of listeners but has the right audiences for companies that produce fishing gear or offer fishing vacations. Looking for smaller advertisers is the key. Also, a live read is incredibly compelling, especially with particular shows and trying to find products that help solve solutions for problems your audience encounters.
---
Win a chance to go to the largest podcasting conference in the world!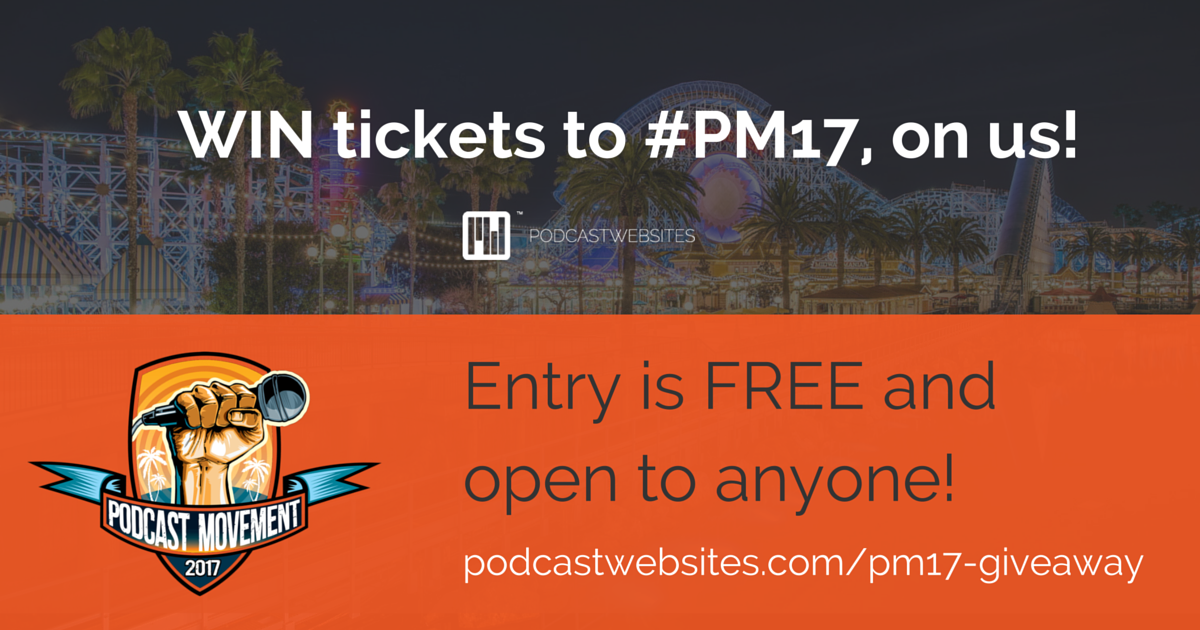 ---
After the keynotes, the event organizers had a great selection of breakout sessions on a wide variety of topics. Personally, I was involved with two of these breakouts. The first a blogging panel with myself, Jonathan Mulligan from Blogging Your Passion and Kyle Taylor from The Penny Hoarder. We went over the reasons that blogging isn't dead and how it can benefit your podcast. I love the tip from Jonathan which was to follow your personal gift order when it comes to creating content. Some people do well with writing out their podcasts, then recording. Other are better having the podcast recorded and then building content around that. He encouraged the attendees to find their gift order and follow it for original and fruitful content creation.
The second breakout session I participated in was all about audience engagement. I got to co-host it with my good friend and the host of the popular Trivial Warfare podcast Jonathan Oakes. In this session, we talked about ways to increase audience engagement. One of the best tips came from Jonathan who created a Patreon page that allows his audience to support the show, and at certain levels, they can come on the show. Getting audience members on the show has been one of the ways he's increased his download numbers. Other things we talked about included branding standards that allow for fan devotion and creating a great place for the audience to hang out in between shows.
That evening many attended the first screening of The Messengers, a podcast documentary that began as an idea from the 2016 Podfest.
Productivity, interview skills, and a bit of just good podcasting advice
The final day of Podfest had some great breakout sessions. Podcast Junkies host, Harry Duran moderated a panel with Laura McClellan from The Productive Woman, Jeff Sanders from the 5 AM Miracle Podcast, and Nick Snapp from the Make it Snappy Podcast. Each person gave significant and actionable steps to become more productive in content creation. The panel broke up productivity into steps. Plan, having a starting point and creating a template for production that you follow each time. The consistency that creates audience demand – when they are asking for episodes it's a good sign. Have agreements instead of expectations was a fantastic tip from Nick. He talked about how he and his wife manage his production schedule, plus household and children responsibilities. The one thing he said was that having an agreement with influential people in your life for the demands of producing a show is vital because you don't want to plan to work and then have to change it because of a family commitment.
Former Podcast Websites Academy session guest, Michael O'Neal talked about the Art of the Interview in a popular breakout session. Michael gave attendees the reason why interviewing is something that can be taught and developed with the right coaching and techniques. Tina Dietz went over different show formats that podcasters can use to create creative and compelling content. Then the keynote room came together again, with Jennifer Briney from Congressional Dish talking about her personal journey to becoming an audience supported the podcast. Katie Krimitsos from Biz Women Rock gave our seven distinct monetization techniques that she combined between her business and podcast that yielded real revenue. Dave Jackson from the School of Podcasting finished out the conference.
Is Podfest worth the trip?
Podfest is a conference that is growing and will continue to grow. I would highly suggest that you make plans to attend next year in February 2018. Going to live events in podcasting helps push you to try new ideas, meet potential partners, and be surrounded by people who simply love podcasting as much as you may want to. Or, if you haven't started yet it could be just the place to push to start.
---
Are you ready to start your podcast but not sure the first steps? One thing you can do right now is set up a one-on-one call with our founder Mark Asquith. He can show you why Podcast Websites is a great solution for hosting and maintaining your podcast and website in one dashboard. He'll show you how our members influence how we make podcasting easier and better. Schedule your one-on-one today.