You Might Not Be Ready To Start a Podcast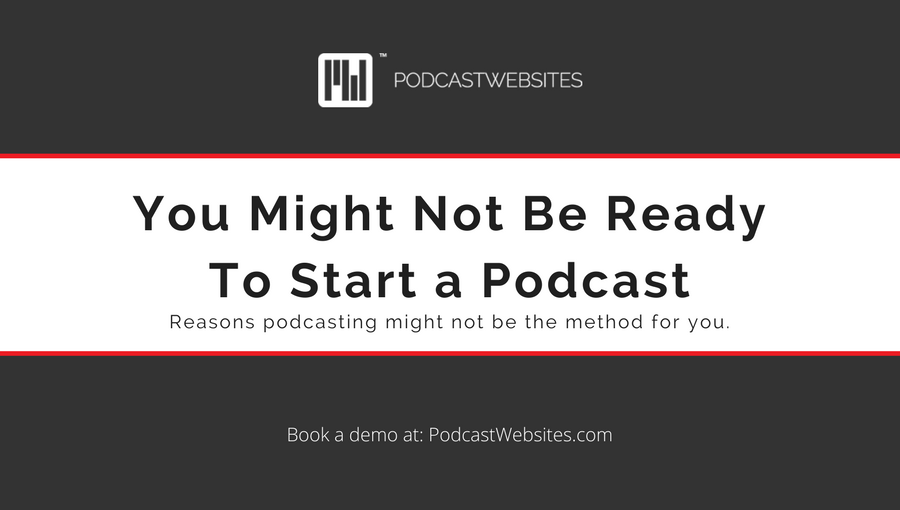 "I want to start a podcast," is usually music to my ears. It means I get to have another person in my life who I can talk about this incredible medium with to geek out over things like downloads, reviews, and conferences like Podcast Movement. Yes, I love helping a rookie podcaster if they are starting their podcast for the right reasons. What are the right reasons? They depend on the person and project. The podcast might be a creative outlet for you or a way to gather more customers for an existing business. Either way, podcasting is an amazing way to reach out and build a community.
Even with these excellent reasons you still might not be a person who should start a podcast.  I realize that you might find it odd that the Community Manager for a growing podcast company is writing an article to stop people from starting a podcast, but it needs to be said: some people aren't ready to start a podcast.
Go into podcasting for all the wrong reasons
Because a potential podcaster often doesn't consider the work involved with making one episode, it causes more problems than anything else. When you think how many podcasts start and then stop before they even get to ten episodes, it can be daunting. As you research podcasting, you might see the term podfade, where a podcast starts producing less and less consistent episodes. It is a growing problem as more rookie podcasters come into the podcasting space without doing the comprehensive research necessary to determine if this is the best medium for them to reach their audience.
There is a significant amount of podfading among new podcasters because they went into podcasting for all the wrong reasons. Potential podcasters see the big speakers at conferences or the folks featured on the front page of iTunes and want some of that action. They'll look at successful podcasters in particular categories and try to recreate that wheel. They assume that it's super easy and doesn't require much to get started. And podcast hosts and companies make it easier every day to enter into the industry.
Podcasters assume there will be fame, fortune, or at least an invitation to speak at big conferences and become disappointed in the results. They see Facebook posts touting new podcasters getting 10,000 downloads in their first month. They see a place where they could potentially be "the star." Some podcasters launch their shows and immediately find super success with them. But it rarely happens because of podcasting directly. These podcasters often come into podcasting after building communities through other methods, like blogging or social media.
They only see the results and none of the work
When a would-be podcaster enters into our industry for fame and fortune only, they only see the results, but none of the work behind the results.
Like most things, building and growing a podcast typically takes more effort than what the finished product shows you. Podcasting requires a certain amount of grit, creativity, and persistence. Grit because you have to get through the logistics and hassle of creating the whole set up of the podcast. Yes hassle because to start a podcast you have to:
Find a host
Acquire an URL for the podcast
Figure out a format for the show
Determine how long the show should the show be
Think how many episodes should you publish in a certain amount of time
Are you going to create an interview or solo show?
Do you want a cohost
If it's interview then how are you going to acquire guests?
Purchase the equipment to record and edit
Schedule time to create episodes
Figure out how to upload them
Link the RSS feed to the podcast catchers
Pray to the iTunes gods to feature your new podcast on New & Noteworthy, offer first born as a tribute and offering
Start social media campaigns
Get a website for the show
Create show notes
Set up email subscribe options
And on and on – people get through all of these, or at least most of them and still are excited to create their show. Then they start making the actual episodes, edit them, and get them out into the world.
Then crickets – often crickets. The only people who are listening are often family, friends who aren't the targeted market. After this, the podcaster still keeps going – and this is where the fork in the road happens – he realizes the on-going commitment to the show and topic. What choice has to be made – does he continue despite the offering to the iTunes gods being ignored and only seeing double-digit downloads? Or after a few episodes, he just stops podcasting.
Why do they stop? Maybe it realizes the work involved to create a quality show – not only the personal work but the money involved if they choose to hire an editor or virtual assistant. They go into podcasting without considering the long term commitment one needs to have a successful show.
Podcasting's ease of use is one of its strongest weaknesses
Podcasting greatest strength is the openness for starting a show. Think about it; it's a medium that once you understand the technology, you can have show up and running in just a few hours. Podcasting is a communication tool that is for and by the people. It is this strength that causes one of the biggest weaknesses because as easy as it is to start a show it's also easy to end it too quickly.
Potential podcasters hear the finished product of favorite podcasts and think "I can do that" then they don't consider the actual workflow of the podcast production. An excellent podcast workflow will look like this:
Brainstorm show idea
Outline show talking points
Schedule guest (if an interview show)
Set up equipment
Record the show
Edit the show
Write show notes
Schedule marketing for episode
Write email blasts
Upload episode
Share episode with followers and fans
And this is a basic workflow – some podcasters go into much more detail. Unless you can consistently follow a workflow like this on a regular basis, you might never find success for the actual podcast you're producing. Before beginning a podcast you must consider this workflow, and how much time this will take you. If you love your topic enough and have the time – then go for it, launch that show! If not you might want to hold off.
Do you have the time and space to let your podcast organically grow?
A long-term commitment isn't something you should just jump into in most cases. People create podcasts on a whim every day.
Personally, my podcast journey started with me discovering podcasts and being given hosting and mentoring from a company. I didn't have to figure out the tech of creating a podcast because I had hand holding. I went from not knowing what a podcast was to having a podcast in six weeks. This isn't normal. But lets back up for a moment, the podcast I'm talking about, The Sports Gal Pal, was based on a blog I had been somewhat writing on for over three years before. I had the Twitter account already set up and growing, and I was committed to the topic. Podcasting wasn't new in the sense of topic or community – I already had that built in. Podcasting was a new method of reaching that community, but the topic was within my core values and passions long before recording.
Most new podcasters are starting from ground zero – they are working to build a community and a show – and this is wonderful and can be successful if you give yourself the time and space to let the audience find the show and let you find the audience. You need to be willing to give yourself space and time to let the show organically grow.
Organically growing means you may never get to 10,000 downloads an episode – and being okay with that. Real success in podcasting means that you set up the realistic expectations for YOUR show and YOUR audience. You're not comparing yourself to anyone else – you've found your voice, community, and you're providing them value on an ongoing basis.
Success in podcasting requires a commitment – to the show, the process and the topic. If you don't have the time to record episodes, edit, post and promote then a podcast might not be the way to get your out into the world. There is something a lot of people won't tell you about podcasting – it isn't a quick jump to fame and fortune. But, it is an incredible way to build a community and get your message out there.
---
Think you're ready for your podcast to launch? Podcast Websites is here to help. We have the knowledge and systems to help you focus on your actual show and recording. We handle the tech of your RSS feed, website hosting, and so much more. Sign up for a one-on-one conversation with our co-founder Mark Asquith and learn why Podcast Websites is a great place to find your podcast home.