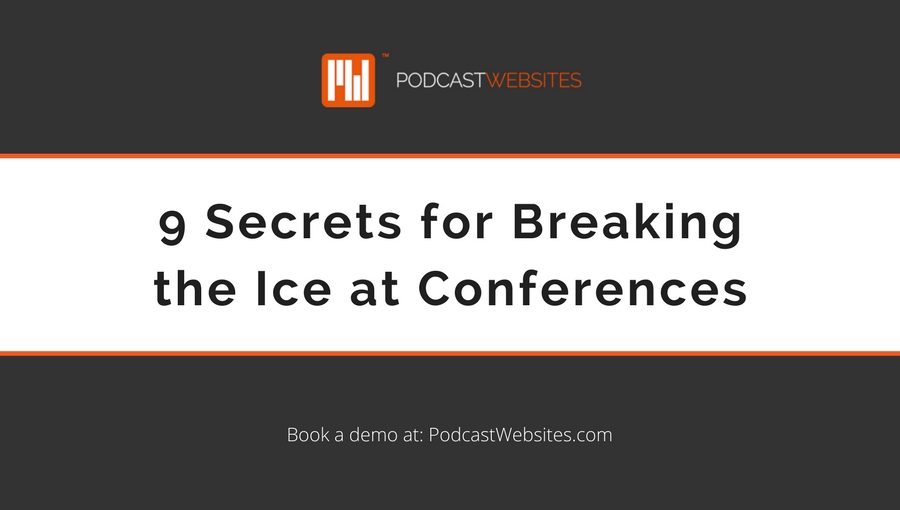 9 Secrets To Breaking the Ice at Conferences
Podcast Movement is just a few weeks away, and the entire Podcast Websites team is so excited to be going. Getting together with a few 1,000 of our favorite podcasters in Southern California is an exciting time. But, it can also lead to anxiety for many podcasters who want to use conferences like Podcast Movement to connect with other podcasters but feel they lack the social skills to make them.
Recently in the Podcast Movement Facebook Group, a question was posted by event organizer Jared Easley asked if there was any advice we could offer to new attendees. Overall the response was "say hello." While great advice, if you are brand new to the podcasting industry or you're meeting one of your podcasting icons, it's hard to say "hi" while tongue tied. Podcast conferences are great places to not only find guests for your own show, but it allows you to get more exposure for your podcast. You don't want to get into your own way.
If this is your first Podcast Movement, or you're going to be attending other conferences or events in support of your podcast you need to know how to make the best first impression. Here are some tips.
1. Body Language
One of the best moments in the movie The Little Mermaid was the sea witch Ursula explaining to Ariel the importance of body language.
While a terrible role model overall Ursula's advice is something, you should pay attention to as you are trying to meet new people.
There's a reason your mom told you to stand up straight; it's not only good for your back but also perfect for promoting an air of confidence. You don't want to look like you have a rod stuck up your back, but you do want to appear like you are open to the conversation which leads us to the next tip about your arms.
When you cross your arms, you give the impression that you are not open for discussion. Instead, try to leave your arms to your sides. And don't forget to smile and make good eye contact. It can be inviting when you do this.
2. Add Value to the Conversation
Want to be a person people seek out at Podcast Movement? Bring value to every conversation. It doesn't matter if it's industry talk or chit chat about children at home, giving a tip that provides actual value can make an incredible first impression. It could be something you've discovered about audio levels or how you increased downloads with a Facebook ads plan.
When you can give insights that a fellow podcaster can bring back home and apply, it's likely you'll have a new podcast pal for life.
3. Listen More Than You Speak
Want to impress, show that you're actively listening to the conversation. Eye contact is important of course, but also you can summarize what the person said before adding something of value to the discussion. Active listening also means keeping the smart phone away.
Active listening isn't always easy. It requires you to give your attention to the person in front of you. But, if you're able to master this skill people will seek you out for more talks.
4. Ask Open Ended Questions
Keep the conversation going by asking open ended questions. These are the types of conversations that help you get to know people better. These questions will also help you listen more and add value because you're finding out more about the people in your conversation.
Worse case, treat the conversation like a podcast interview. Be as interested in the conversation in front of you as you would be to the guest coming on your show.
5. Ask About Their Podcast
The beautiful thing about being at a podcasting focused conference is that everyone knows, wants to know, or has a podcast. It's an easy opener and allows you to use all those useful skills I mentioned before.
One of the few times you should bring your smart phone out is when you're finding out about someone's show. Show them that you've subscribed to their podcast after meeting them, do it right there.  And when you get a moment give it an honest listen. You'll have an excuse to seek them out to let them know.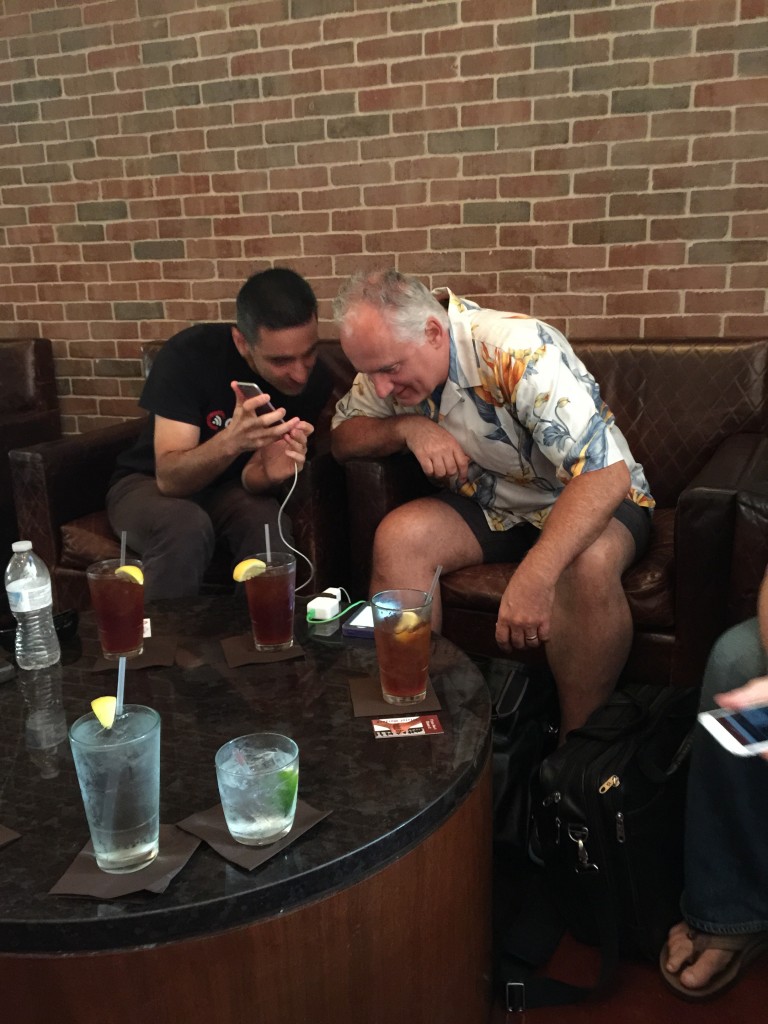 6. Find an Extrovert Buddy
If you are naturally shy having a more outgoing person to break the ice with you is helpful. You can ask in the Podcast Movement Facebook group if anyone is willing to take on the role. Now you shouldn't use them as a clutch or hang around that one person the whole time, but having someone you know is fun and outgoing to help create conversations is a helpful tool in your pocket.
A perfect place to meet an extrovert buddy is to attend the New Attendee Networking Orientation (and Alumni Refresher) on Tuesday, August 22 at 3:00 pm. There you'll be surrounded by other newbies who might make it easier to meet a few extroverts.
7. If You're an Extrovert Support the Introverts
If you are naturally a person who is comfortable among strangers, help the introverts out. Introverts typically are drained in situations where they have to have a concentration of interactions in a short amount of time. Assist them in by connecting them with similar niched podcasters, sitting next to them in session, or realizing when they need a break.
8. Attend the Social Events
You want to meet people at a conference the size of Podcast Movement you'll want to attend the social events. Official and unofficial ones, there are a bunch to choose. If there are group activities, participate in them. In Dallas, for example, there was a photo booth with western themed outfits.
Many podcasters had a ton of fun mixing and matching outfits to create some hilarious combinations. Friendships formed during these occasions often become lifelong.
9. Visit the Expo Floor
No, I'm not suggesting this because the Podcast Websites booth is going to be amazing (it is). The expo floor filled with people who want to chat and get to know you. Plus most vendors might have a snack or cool merchandise (again us) so make some friends with the vendors.
Podcast Movement and other conferences are a great place to meet people who love podcasting. Don't waste it by being shy. Get out there and introduce yourself to as many people as possible. We're all eager to meet you.
Ready to monetize your audience & become an audio influencer?
Podcasters all across the world are transforming from simply producing audio to becoming a monetised, influential brand with Podcast Websites. When you're ready to become an audio influencer in your niche, we're here for you.
Ready to monetize your audience & become an audio influencer?
Podcasters all across the world are transforming from simply producing audio to becoming a monetised, influential brand with Podcast Websites. When you're ready to become an audio influencer in your niche, we're here for you.