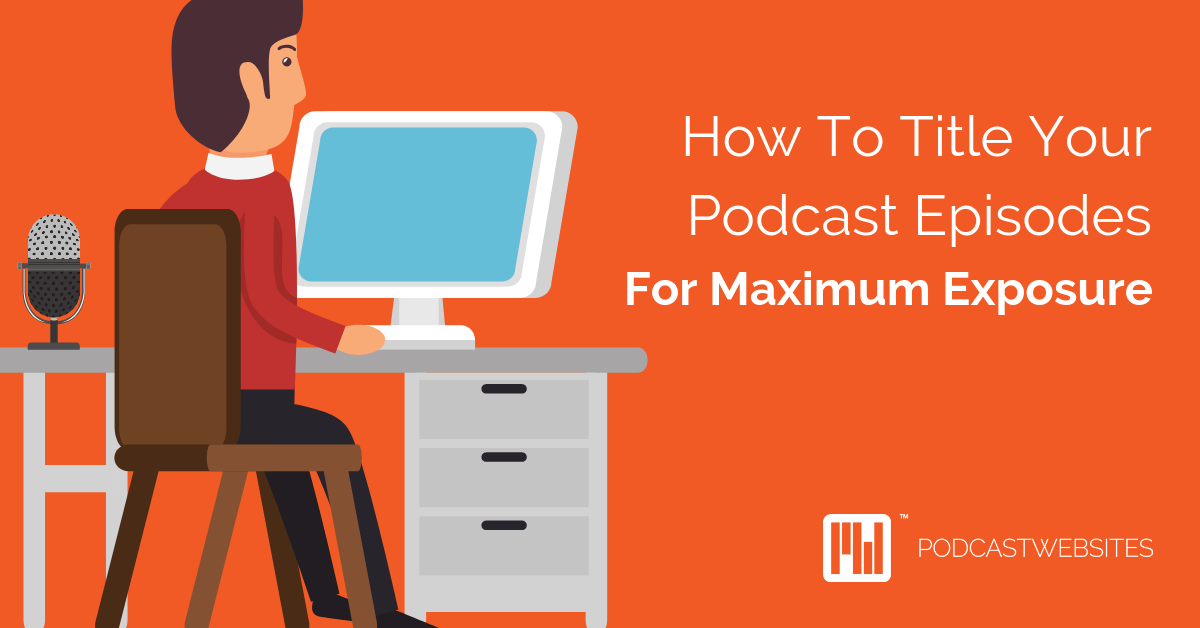 How To Title Your Podcast Episodes For Maximum Exposure
Last week we shared the news that Apple are cracking down on 'keyword-stuffing' and name-dropping in your episode title (download our free guide to make sure you aren't doing this here).
But that's not the only reason you should spend more time on crafting your episodes.
Sure, after you've worked your socks off getting audio recorded, uploaded and posted, how to title your episodes is probably the last thing on your mind.
But a bad title is way more damaging than you might think – in fact, it can make or break your podcast's overall exposure.
Google recently announced in their new podcasting strategy that audio results are finally being given the same exposure as text, image and video in Google searches – which means that titling your episodes well has never been more important.
Your podcast has the opportunity to be seen by more people than ever before IF you get this one vital element right. Here's how:
1. Make sure your titles add value and say what the episode is about
People often make the mistake of trying to be cool and funny in their episode titles – don't!
Writing something like "I want to be a part of it, New York, New York" about a trip to New York for a travel podcast doesn't effectively communicate anything about the episode content or why people should listen to it.
However, something like "The Best Coffee Shops in New York" would appear in search terms about the best coffee shops in New York (a term that's been Googled thousands of times!)
An amazing tool for titling anything (we use it for blog posts, videos and all of our resources) is CoSchedule's Headline Analyzer. Just type in your title ideas, and they will rank them out of 100 based on the amount of common, uncommon, emotional and powerful words you use.
They'll also consider the character and word length of your title and first and last three words, and finally evaluate the keywords to see if people are searching for them and the sentiment of the title – people tend to react better when a title has a strong sentiment.
2. Don't put your podcast's name in the episode title
One of the biggest mistakes podcasters make is putting the name of their podcast in every single episode title, for example, "The World Traveller Podcast Episode #1" It's completely unnecessary and takes up valuable character space that could be much better spent.
Google Podcasts cuts off any text after 23 characters so to really pack a punch, you need your titles to be short, succinct and enticing in those first few words that listeners will see.
If you want to number your episodes (which a lot of podcasters do), put the number at the end of your title to really make the most out of the visible text at the beginning.
3. Remember that Google Podcasts is a search engine
When coming up with a title for your episodes, you need to remember that Google Podcasts is a search engine. It has no idea what you actually say in your podcast, so all it has to go from is your episode titles and description.
But there are things you can do to help people find your podcast among the noise.
Think about what search term best describes your podcast, then build on that – brainstorm phrases you can think of that relate to your podcast and write these down as keywords.
For example, if you run a health and fitness podcast, keywords like this would fit:
How to lose weight
How to get fitter
How to get healthier
How to lose belly fat
4. DON'T keyword stuff 
Part 1 of this 2-part series is all about Apple's recent announcement that podcast titles using keyword stuffing and name-dropping will be removed (you can read it here).
Keyword stuffing is when your title includes the name of your show and any additional information that may help it be found in Apple Podcasts when people search.
Name-dropping is a huge part of this. If you've managed to get a well-known guest on your show, that's awesome and understandably you want to shout about it. You can still put their name in your episode title. What you CAN'T do is stuff your episode titles with OTHER names of well-known names in a similar industry. *
Apple are really cracking down on people using names in their titles, so be sure to go back and check your existing titles and keep this in mind when planning your future ones, too.
Next Steps
Think you're ready to start creating the best titles you've ever made?
We've created two downloadable resources in the free tier of The Podcast Success Academy to help you put your new knowledge into action!
As a warm-up, download the "From Keyword Stuffing To Perfect Podcast Titles" resource, which shows examples of bad titles using keyword stuffing and how we've turned them into perfect podcast titles.
Then move on to our "Podcast Episode Title Checklist" which will take you through how to plan and write your titles, taking into account all of the tips above.
Book A One-To-One Call
If you have any questions about titling your episodes or want to find out more about Podcast Websites in general, book a free 15-minute one-to-one call with James, our Head of Podcaster Relations & Operations today!
*In an earlier version of this post, we mistakenly said that you could not add the guest's name in your episode titles. This was not true and has been corrected by the above statement, and we apologize for any confusion this has caused.
Ready to monetize your audience & become an audio influencer?
Podcasters all across the world are transforming from simply producing audio to becoming a monetised, influential brand with Podcast Websites. When you're ready to become an audio influencer in your niche, we're here for you.
Ready to monetize your audience & become an audio influencer?
Podcasters all across the world are transforming from simply producing audio to becoming a monetised, influential brand with Podcast Websites. When you're ready to become an audio influencer in your niche, we're here for you.