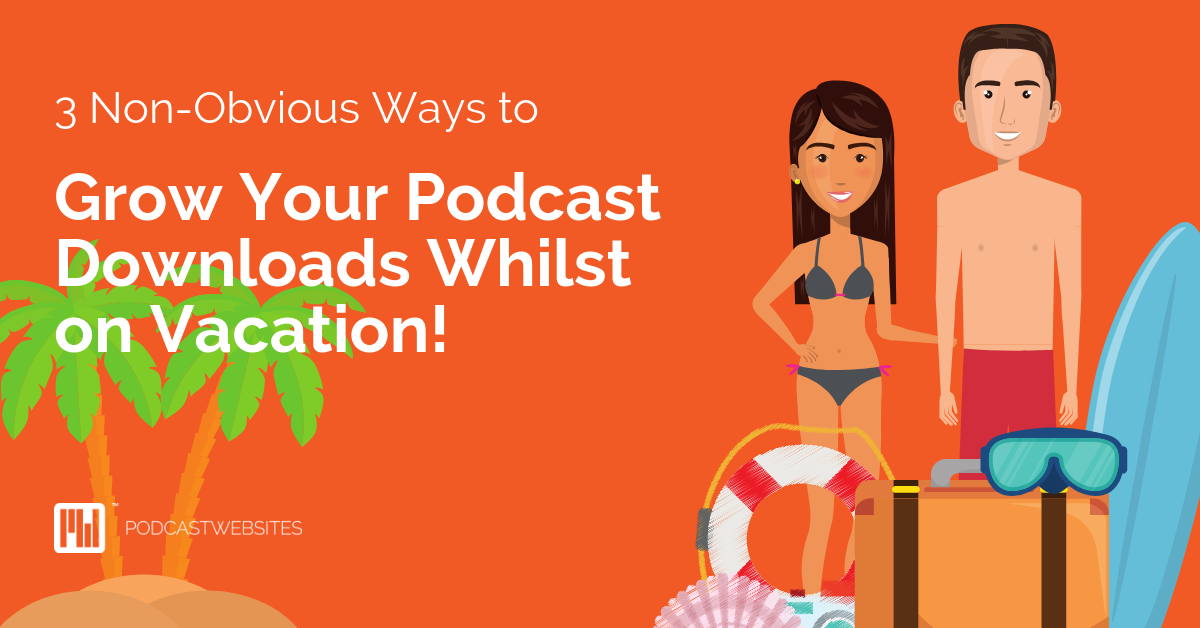 3 Non-obvious Ways to Grow Your Podcast Downloads Whilst on Vacation
It's rare that I take a vacation (also, I'm British, please sympathise with how hard it is for me to say 'vacation', not 'holiday'!).
But for the last two weeks, I've been away. I had one week of doing adventurous things and one week of quite literally turning off from everything – including social media and of course, my podcast.
There's a little issue with that, though.
I run a 5-day per week podcast called The 7 Minute Mentor.
Why is that a problem?
Simple: I have to make sure that my show doesn't stop just because I do.
That sounds easy, of course, it does, but the real issue isn't the show-stopping, it's the activity around the show that I'm more worried about halting when I'm not around.
I don't have a big team for my show either, I don't outsource much at all. I edit my own show and in fact, I only outsource my show notes (I'm actually just experimenting with a couple of things there, too) and my VA uploads my show to be published.
The bulk of the work I do myself.
It's easy as a podcaster to just dial it in. I've been there and done that, and The 7 Minute Mentor simply isn't that show – I want that show to help as many people on Earth as it possibly can, which requires me to be at 100% full speed all of the time when it comes to marketing and promoting the show – even when I'm not here.
In fact, I'd argue that 80% of a podcaster's job is in marketing their podcast, not the production of the show itself.
That's not to say that you can skimp on production, rather what I'm saying is that producing a podcast and turning that podcast into a success is a lot more work than most people think.
But, like leg day at the gym, the first time you get busy as a podcaster it's the marketing and promotion that slips, not the production.
Sure, we've all been up at midnight recording and editing the show for the next day.
Heck, I'm sure that some of us have even recorded on the day of release before because we've found ourselves 'busy' and unable to pre-record.
Just me, right? Forget I said anything. 😛
The thing is though, the recording is what we break our backs to do when we're up against it, and of course, that's with good reason – without a recording we have nothing and thus, our audience starts to get the same wandering eyes that a bored me watching season two of Lost got.
That said, as I mentioned above, I believe that 80% of a podcaster's job is marketing and promoting their podcast because honestly, build it and they will not come. Sorry.
And so, as podcasters when we need a couple of weeks holiday (wait, 'vacation') with our family or friends to recharge, we go into a super-power-mega-record-everything-and-pre-schedule-it mode.
That's cool. It works.
But that kind of activity is well, basic. It's what we should do because we have an audience that expects us to show up.
And sure, we'll pre-schedule some marketing too – maybe a few cheeky tweets, some shiny Facebook posts and those fancy Instagram quotes that we all throw around, they're cool, aren't they.
But again, that's basic. Mega basic. That's the stuff we should be doing, we shouldn't feel like we've crushed it because we've done the basics.
Unless that's what we're happy with. In which case, we can't complain when our podcast doesn't grow.
I'm a huge fan of clichés. I mean, they all sound so good don't they!
One of my favourites is "Work smarter, not harder." and I think that we can apply that to our vacation preparation as podcasters, too.
We most certainly should be pre-recording when we go away for a couple of weeks – I recorded three weeks of my podcast, fifteen episodes – and I also think that sure, we should be pre-scheduling marketing activity too – social media, etc.
That is maintenance, and like a 17-year-old Arnold Schwarzenegger, our goal is to grow.
Here're 3 non-obvious ways to grow your podcast downloads whilst you're on vacation:
1. Run a "Best of" campaign
My friend Michael O'Neal from the Solopreneur Hour does this wonderfully over on his Twitter feed.
Remember, the goal whilst you're away is to grow your audience, not to maintain the downloads at the level they're at.
And I have some bad news: not everyone in the world knows about your podcast. Yet!
My recommendation here is not to simply blast your Twitter following with every single podcast episode in your archive.
Rather, the goal is to curate one episode per day of your vacation and really hammer that home for people who may not have listened to your show.
For example, let's assume that you're on vacation for five days.
Pick your five most popular episodes (based on basic downloads or your audience engagement, you'll know which is better for you) and schedule 10 or so tweets (and 2 Facebook posts, no more) per episode to push people to them.
Your goal is to have 10 or so tweets, plus the Facebook posts, for each episode so that you can pre-schedule them one day per episode, for each day of your vacation.
But here's the kicker: create some custom artwork for these episodes, don't simply use the same artwork that you have already for them and use hashtags that are related to your niche, but that you maybe haven't ever considered before.
You could do what Michael does which is to say "[Best of…] in your social posts, but why not go one step further with the image (because we know that social posts with images get piles more engagement than those without) – why not create a branded piece for this by calling this campaign something like "Coffee break content", "Something old, something new, something podcast just for you" or something equally natty.
I can't believe I got away with that last example.
2. Do something special, something different, such as…
Nothing comes easy, you work hard anyway on your podcast so why not do just a little more for a much greater impact on your show whilst you're away?
For example, if you have a weekly show why not go ahead and produce a special standalone 'season' of your show that dives deep into one topic, and that releases one episode per day over the days of your vacation.
I have a few thoughts on how you can set this up with your podcast host (like Podcast Websites), but the bottom line is that it's pretty easy to do.
I really like this idea because it naturally makes noise amongst your audience and whilst doing that, also makes it super easy for non-listeners to try out your content without committing to your back catalogue.
3. Strategic co-hosting
Ok, this idea requires a little more planning and great rapport with other podcasters, but that's something that the industry has in abundance, we're all here to help each other.
Remember, we need to consider that the goal here isn't simply to maintain our download numbers whilst we're away, it's to actually grow our audience whilst we're sunning it up somewhere nice and chilled.
To help that along, we should start to consider how to work with other podcasters in order to migrate audiences between our two shows.
The average podcast listener doesn't simply listen to one podcast. The average podcast listener listens to several shows over the course of a week.
We have an opportunity to become one of those 'other' shows if we can work alongside other hosts to spread the word.
But you have to do this right, you have to give value to the other host more than you take it.
In my view, building great rapport over the course of a long period of time with other podcast hosts in your niche or adjacent niches affords you a unique opportunity for some strategic co-hosting when the time is right.
Now, co-hosting is different from being a guest, in my view.
Co-hosting isn't you guesting on someone else's show to promote your show. Co-hosting is just that, it's being the host of the partner show for an episode.
A great example of this is to offer to interview someone for their own show, giving their audience the chance to hear their favourite host in a light that they've never experienced before.
The great thing is that here, you're giving insane amounts of value to the audience of your partner show, but you're able to naturally 'plug' your own show by saying things like:
"Hey, this is Mark Asquith of The 7 Minute Mentor podcast…"
With enough value added and a good relationship with other podcast hosts, you can then ask for the co-hosted shows to be released whilst you're on vacation, allowing for potential new listeners to migrate to your show during the course of the release period.
Then, offer the same for the partner hosts – let them do something special for your show to expose them to your audience.
Quid pro quo, in the nicest and most value-added way possible.
Get creative here, this is your medium and you can do what you like with it – you have to think big, you have to think in terms of what will serve your audience best and you have to adopt a growth mindset, even when you are on vacation.
Next steps:
Ready to monetize your audience & become an audio influencer?
Podcasters all across the world are transforming from simply producing audio to becoming a monetised, influential brand with Podcast Websites. When you're ready to become an audio influencer in your niche, we're here for you.
Ready to monetize your audience & become an audio influencer?
Podcasters all across the world are transforming from simply producing audio to becoming a monetised, influential brand with Podcast Websites. When you're ready to become an audio influencer in your niche, we're here for you.