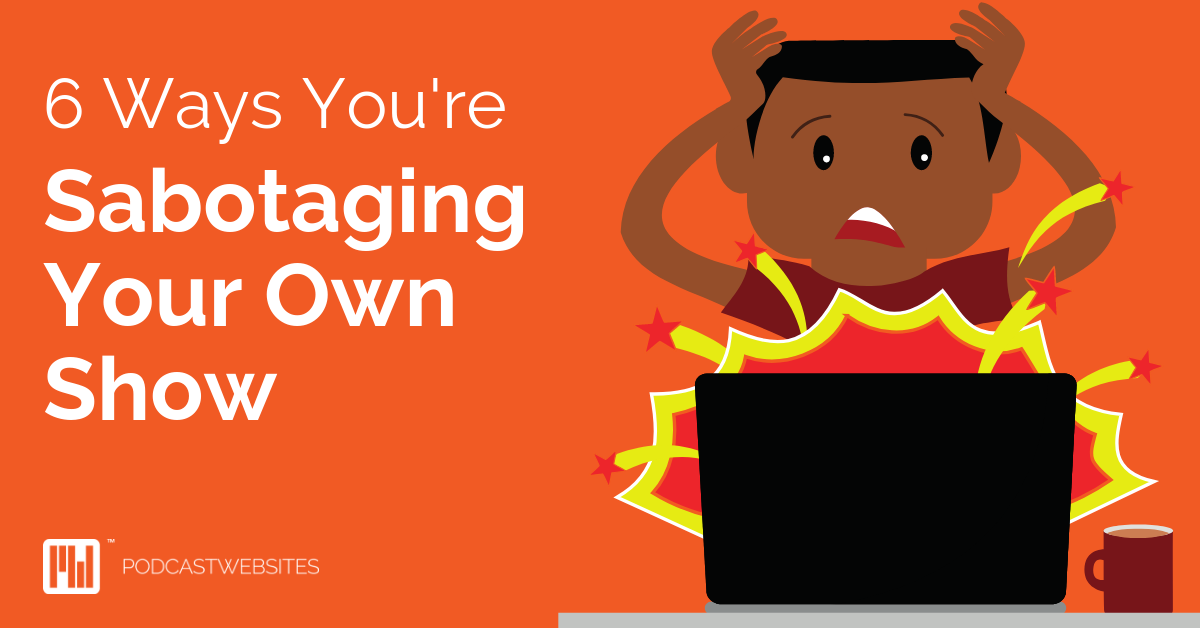 6 Ways You're Sabotaging Your Own Show
Within the last 5 years, I've coached hundreds of podcasters and taught even more of them about growing and monetizing their podcast. And in that time, I've seen a few mistakes that are made time and time again. Sharing them with you now is my way of saying…..cut it out! Thinking big, reaching out, and acting from a place of abundance, not fear will help you grow and reach success…but these tips will help as well.
1. ONLY focusing on content.
If a tree falls in a forest, but there's no one around to hear it, does it make a sound?
The answer is, who cares? If no one hears the tree, no one cares that it fell. The same goes for your show.
You have the perfect microphone, the perfect guest, the perfect studio, the perfect intro and outtro music, and yet….no listeners because you've not incorporated one lick of marketing to tell anyone about it all.
You need to focus on marketing, or no one gets the benefit of your wisdom and expertise, or your infectious wit, or your inspirational message. Start by getting it out there (we'll show you how at the end of this blog post!)
2. Remembering the difference between a hobby and a business.
That difference? Money. If something makes no money, it's a hobby. Period.
There are so many podcasters that started their podcast from a place of "let's see how this goes." It's very common (and great fun!) However, once things get rolling (or if this is you from the beginning), you realize you really want your show to fly. Not taking ALL aspects of your podcast seriously can be a huge mistake.
If you want to move from being that cute show about history/health/business/hip hop, then you need to treat your podcast like it is a business. Whether you meant to or not, you started a little business that has a life of its own.
Being a business owner means having discipline, commitment and a desire to do it to the best of your ability. It means marketing, being available for your audience (aka customers) and taking your branding seriously. Your podcast deserves the same. You need promotion, you need consistency and you need back up plans for when you can't produce content.
3. Engaging in review swaps.
Originally, people asked for a "review for a review" because we were under the impression that the Apple Podcasts algorithm was raising our rank the more reviews we got. But now, we have no idea what makes it to the top (and who's paying for it.)
Regardless of how you get in the top ranks of Apple Podcasts, review swaps are a terrible idea.
There's only so many things you can say about a podcast you have likely NEVER listened to. "I love this podcast! Such great content" "Really adds value" "can't wait to hear more" UGH! Generic, boring and obviously not sincere.
Sponsors will be able to tell they're false – and if your reviews aren't genuine, how can they trust your other metrics?
4. WAY over keywording your podcast information
Keyword stuffing is when your title includes the name of your show AND any additional information that may help it be found in an Apple Podcasts search – such as name-dropping.
Keyword stuffing is incredibly common, but not best practice when it comes to publishing your episodes. Apple have recently cracked down on it and will now threaten to remove the show of any titles they find doing it.
Examples of keyword stuffing are: "The Goat Podcast: everything you want to know about goats, goat milk, raising goats featuring interviews with Goat Mama, Mr. Totes Ma Goats, Goatalicious and more". And "Build Your Best Life | Self Care, Fitness, Mental Health by David Brent"
These fixed, would look like "The Goat Podcast by Goaty Goaterson" and "Build Your Best Life by David Brent."
5. Trying to monetize before your show has even launched.
We get so many questions from podcasters about monetizing their show before they even HAVE a show.
My favorite thing to ask in return is, "Are you Oprah?" (She famously sold out her podcast advertising FOR THE YEAR in 24 hours.) To an advertiser, your content isn't your selling point – your audience is. Their goal is to make sales – and the more people listen, the more sales are possible.
It doesn't mean you have to wait until you have an audience like Adam Carolla. It just means first things first.
Instead of worrying about how to monetize your show, focus on how you can grow your show. Once you have a show with a super-engaged audience (it doesn't matter how small!) THEN you will be in a good position to approach sponsors (find out how to do that with confidence here)
6. Forgetting to tell people WHAT TO DO.
A good call to action is crucial for your episodes and yet one of the biggest faux pas podcasters make is forgetting to add any.
You need a clear, consistent call to action in each and every podcast episode at either the start or the end – regardless of what it is.
Some weeks you may want to grow your Twitter and sometimes get web traffic, and that's ok! Just have one or 2 clear calls to action each time, or they won't remember what to do.
Our CEO Mark Asquith runs a 5 day a week podcast called and his only call to action at the end of each episode is to ask listeners to join him for his weekly free coaching session on a Friday.
Call to actions are SO important as they underline the very reason that you podcast – make sure you factor them into your opening and closing lines each and every time you pick up the mic to record.
Next steps – Want to find out 10 sneaky secrets to growing your show?
I've taken the liberty (and the painfully long amount of hours) to animate the team in this super-short but totally hilarious video series, including 10 sneaky tips for growing a podcast audience that you've probably never thought of. Check it out!
Each video is:
Under 2 minutes long
Can be implemented in under 5 minutes
have been PROVEN to give you results!
Head to The Podcast Success Academy for instant access and start growing your audience today!
Ready to monetize your audience & become an audio influencer?
Podcasters all across the world are transforming from simply producing audio to becoming a monetised, influential brand with Podcast Websites. When you're ready to become an audio influencer in your niche, we're here for you.
Ready to monetize your audience & become an audio influencer?
Podcasters all across the world are transforming from simply producing audio to becoming a monetised, influential brand with Podcast Websites. When you're ready to become an audio influencer in your niche, we're here for you.