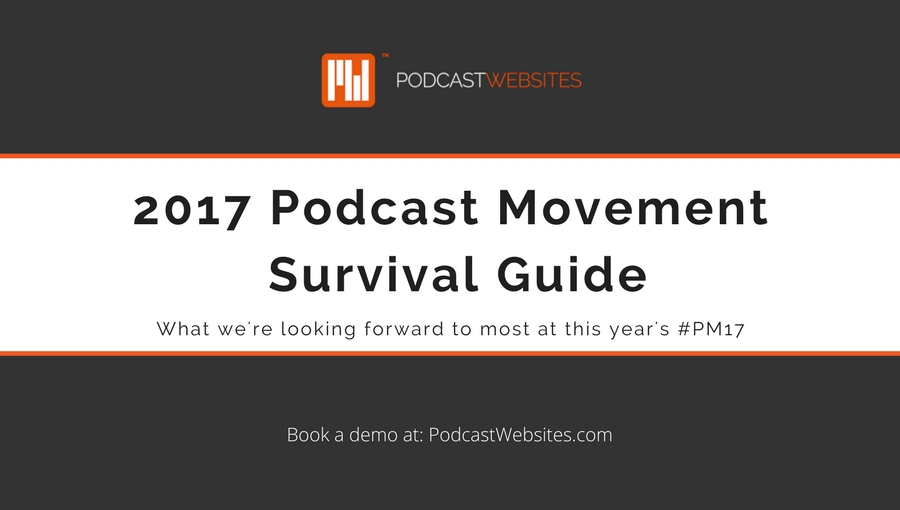 2017 Podcast Movement Survival Guide
Podcast Movement is the largest podcasting conference in the world, so you know the team at Podcast Websites is going to be there in full force. Joining in on the fun are our co-founders Mark Asquith and John Lee Dumas, Chief Technology Officer Kieran McKeefery, Kate Erickson from Entrepreneur on Fire, Izzy Hoedemaker who is Head of Podcaster Success, and myself. All of us are looking forward to spending time with the podcasting community as a whole, and especially our Podcast Websites Community Members.
There are just too many amazing speakers and activities at Podcast Movement to choose from – so I'm going to give you my planned schedule of events, sessions, and downtime. To get some great advice on how to make the most out of attending a conference check out our article 10 Ways to Maximize Attending a Conference.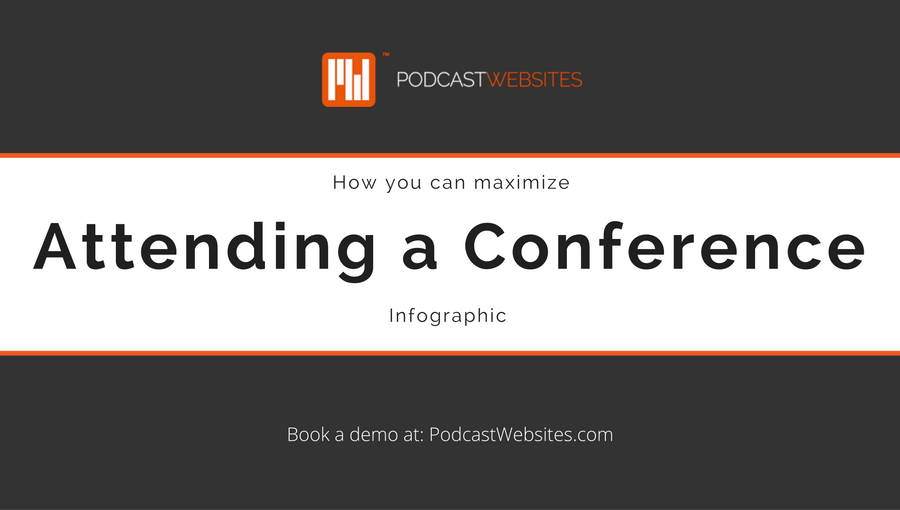 Pre-conference Education
What's great about Podcast Movement is there are wonderful events the Tuesday before the big show happens. Workshops and the famous PMx Talks are events that many podcasters fly in early to attend.
From Idea to Launch is a full-day workshop led by Kate Erikson and ideal for new and existing podcasters. Kate along with guests are going to go over the four pillars that podcasters need to focus on to ensure a fully successful show. The idea, where you find the topic that you're passionate about, the how, the 'meat and potatoes' as Kate puts it. This workshop is where you'll learn the behind the scenes things you need to have a successful show. Then the launch, getting more ears to your podcast, and finally beyond. Beyond focuses on growing the show, sustaining it, and improving it.
Fame & Profit Lab is another all-day workshop offered on Tuesday. This event hosted and created by Josh Elledge, a podcaster who understands and coaches individuals on the power of media appearances. This workshop will go over how to get more exposure for your show, how to build community, and how to monetize in a variety of ways. Several guest speakers have been invited to speak at this workshop including myself. I will be leading a session on the new and classic methods of using social media to build an audience and make stronger audience communities.
PMx Talks
There are also the PMx Talks to attend. This free and open to the public. PMx Talks has been a growing event for Podcast Movement, and feature 15-minute talks with no slideshows. Instead, speakers will be competing for a chance to win the PMx Competition award and be automatically given a speaking spot at the 2018 Podcast Movement. What I love about this event is the speech topics are often varied and can cover everything from spiritual to humor.
This event allows podcasters to share information outside of the podcasting space. I highly suggest checking it out.
First Timers Orientation
Are you brand new to Podcast Movement? This year the conference is offering a session for new and returning attendees to give them the inside scoop as to get the most out of the conference. This meeting is an excellent idea if you are looking to connect with podcasters early or meet up with old friends.
Tuesday Evening Events
Podcast Websites is hosting an invite only member meetup with AWeber. We are hitting the alleyways for some fun and drinks with 9-pins as Mark calls it.
Podcaster's Paradise is doing it's annual members-only meetup Tuesday evening as well. And Podcast Websites member Giovanna Rossi Pressley is hosting a public meetup for her Well Woman Show. You can RSVP for that event here.
Tuesday night there will be a viewing of The Messengers: A Podcast Documentary. The Messengers produced by a team of award-winning filmmakers who are also podcasters shows the reasons independent podcasters choose this medium and some of the challenges and opportunities that have come because of their podcast. This viewing will conclude with a discussion and audience Q&A with the director and executive producer of the film.
Another cool event is new to Podcast Movement – Ignite. This cool speaking event features speakers get on stage for five minutes each to share a Spark. A Spark is 20 slides shared in 5-minutes, and they are on a 15-second auto advance. No matter what the speaker is saying that next slide is coming!
The First Full Official Day
Podcast Movement officially kicks off at 10:00 am PST on Wednesday, August 23rd and filled with amazing sessions and events.
One session I'm personally excited about is 'What Does Your Website Sound Like.' While I love listening to podcasts, I have personally never thought about the impact of this communications form to individuals who are visually impaired until I met Michael and Teresa Blaes, who both deal with blindness in their everyday lives. This session is going to show the importance and simplicity of making websites for podcasts more accessible to people with disabilities. Michael and Teresa will cover tips that attendees can put in place immediately.
This session will be in Platinum 1 at 10:00 am.
Another excellent session starting off Podcast Movement will be the Table for 3 – Business session. John Lee Dumas is joined by powerhouses Amy Porterfield and Pat Flynn to discuss how the three of them have successfully used podcasting to grow their online businesses. This session is ideal for those using podcasting as a lead generator because these three have proven systems for success.
This session will be in Platinum 5 at 10:00 am.
One of my favorite automation experts, Hani Mourra, is leading a roundtable mastermind on making podcast automation a useful part of your workflow. The roundtables at Podcast Movement are where you can network and meet other podcasters looking for solutions and tips on a variety of topics.
This roundtable will be at 11:00 am in the Roundtable Mastermind Section.
Kate Erickson is giving a presentation about podcasting systems that I know will be outstanding. She is the queen of processes for a reason. There is no one better at explaining who processes and systems can increase your productivity.
This session will be in Platinum 5 at 11:00 am.
'Go Beyond the Ears & Downloads. Get to know YOUR Podcast Audience' is a panel that includes AWeber's Chief of Marketing Erik Harbison. This discussion will show you how to develop a deeper relationship with your audience
This session will be in Platinum 2 at 1:00 pm.
At 3:15 pm the first keynote session will feature the hosts of the popular podcast Undisclosed. They will share their story of being a show considered by many to be a spin off of Serial to becoming one of the most popular podcasts in the world. For independent podcasters looking for inspiration, this is a can't miss keynote.
The second keynote I'm looking forward to is Dan Carlin. Carlin is a wildly successful podcaster who breaks known "rules." He doesn't release episodes on a consistent basis; his episodes can run up to six hours long, and he's independent of a major network. He is consistently on the top charts with millions of ravenous fans. He rarely does live events so this might be a once-in-a-lifetime speaking event.
Dan Carlin's keynote begins at 4:30 pm.
Wednesday Evening
As if Wednesday wasn't already full of exciting sessions and events there is also the Academy of Podcasters Awards. This ceremony is a celebration of the best podcasters in our industry. Seeing your peers, and some of your favorite podcasters win exciting. Plus there will be some inspiring speeches from the individuals inducted into the Podcasters' Hall of Fame. To be accepted into the Hall of Fame, the inductee has to have provided a lasting positive impact on the industry for at least ten years.
And the parties at Podcast Movement are often a great place to unwind and meet friends. Plus you'll never know who you'll meet at one. In 2015, I attended a party at the Podcast Movement in Dallas, Texas and got to get this photo with Marc Maron.
Thursday Events
Thursday opens up with sessions starting at 9:00 am.
Mike Morrison is joining a panel of business podcasting experts showing how to turn fans into customers. Mike is the expert of building paid communities.
This session is at 9:00 am in Platinum 7
Jonathan Oakes from the Trivial Warfare podcast is showing how to make money from a hobby podcast without compromising values or ethics. He is going to demonstrate how he uses the platform Patreon to monetize and provide excellent value to his listeners.
This session is at 10:00 am in Platinum 1
A Podcast Websites favorite Jessica Kupferman is dropping value bombs on sponsorships and monetization plans. She is going to reveal when shows are ready for sponsorship, and steps to take to be ready for sponsors.
This session is at 11:00 am in Platinum 3
Kate Erickson gets the hat trick this Podcast Movement by on this panel to discuss why niches are fantastic. The riches are in niches, and this panel is going to highlight why niching is the future of podcasting.
This session is at 1:00 pm in Platinum 7
Joel Sharpton is going to show you how to make your scripted show sound less scripted and more authentic. Joel is the host of Podcast Movement Sessions this season and brings a ton of insight into this topic. Plus he's a great community member of our free Facebook community, and many of our podcasters are clients of his.
This session is at 2:00 pm in Platinum 4
Thursday Night Party Time
Thursday Night you're not going to want to miss the Luau Party. It's going to be the place for podcasters to have a bit of fun and celebrate the conference. Make sure that you take the time to attend the events that aren't just educational. These events are where you might meet your newest podcast BFF.
The party starts at 7:00 pm
Saving the Best for Last
Friday brings another excellent day of education.
Our own Mark Asquith is hosting a session on the benefits of changing to a season based series show. Mark was 150 episodes in podcast Excellence Expected when he revamped the show completely. He's going into that experience and why it could be the future of podcasting.
This session begins at 9:00 am in Platinum 4
The closing keynotes are not to be missed. Aaron Mahnke has done what many dreams of doing – creating a show so popular that it covers the bills. His advice is not to be missed for anyone wanting to build a podcast they love.
Shannon Cason is one of the best storytellers in the business and is the perfect way to wrap up.
Afterparty
The ladies at ShePodcasts are doing a live recording of their popular show right after #PM17 wraps up – trust me Jessica Kupferman and Elsie Escobar are some of the funniest podcaters on the planet and the opportunity to see them together live, and recording is rare. You're not going to want to miss it!
The Expo Floor
No trip to Podcast Movement is complete without stopping by the Expo Floor. The Podcast Websites team has been working on some fantastic merchandise. We'll be doing demos of our platform and service along with showcasing some of our favorite Podcast Websites member sites.
Which session or event at the conference are you looking forward to the most?   
Ready to monetize your audience & become an audio influencer?
Podcasters all across the world are transforming from simply producing audio to becoming a monetised, influential brand with Podcast Websites. When you're ready to become an audio influencer in your niche, we're here for you.
Ready to monetize your audience & become an audio influencer?
Podcasters all across the world are transforming from simply producing audio to becoming a monetised, influential brand with Podcast Websites. When you're ready to become an audio influencer in your niche, we're here for you.