Lessons from Mid-Atlantic Podcast Conference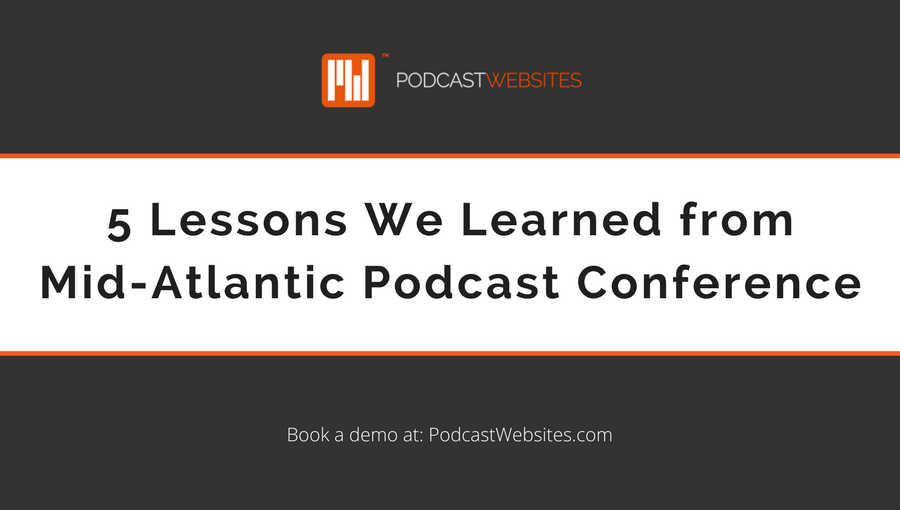 Lesson 1: Smaller conferences offer unique interactions
I love small, intimate conferences for podcasting as much as I love the big giant ones like Podcast Movement. While Podcast Movement has everyone who is anyone in the podcasting space, a small, regionally based podcasting conference will let individuals podcasters interact closely with attendees.
Mid-Atlantic Podcast Conference is different because each talk is held in one room – all of us including speakers and attendees are in one room. Lunch was together, and so were breakout sessions. Because of this, it forces people to spend quality time together.
For a brand new podcaster, this is invaluable time and exposure. You can pick the brains of some of your favorite podcasting experts and get quality time. Seeking out smaller conferences and meetups are just as important as attending the large ones.
Lesson 2: Diversity in podcasting needs to move beyond surface
Mary Nichols, a podcaster for 11 straight years challenged the crowd to start talking about diversity for podcasting that goes much deeper than just the surface. She argues that while podcasting seems diverse, that we as a community must do more. Podcasting is the last mass media stream where the creator can be themselves, and the audience comes from the host. They like you, and you show when things are genuine. Podcasting as bigger corporations come in we don't want to be radio where major companies control the market, and real conversations die. Therefore diversity must be firmly anchored in the podcasting space to prevent voices from being lost.
Mary wants podcasters to lean into the tough conversations and positions even when they disagree with each other. Podcast industry leaders must do more to not only invite diverse voices to podcast but also to promote diverse voices.
Lesson 3: Don't be afraid to show up on unexpected shows
Amanda Doughty, from the Great Beer Adventure podcast and Clay Groves from the Fish Nerds podcast, hosted a workshop that focused on podcasts partnering up with compatible podcasts. The idea is that you and your podcast audience are not one-dimensional. Your audience will love hearing other sides of you.
Amanda and Clay podcast about entirely different things, craft beer and fishing, but then beer and fishing go together. By partnering up for episodes, social media blasts, and meetups, they are growing their audiences.
Look and seek out podcasts where your audience will love and develop a relationship with the hosts of those shows. This is where attending conferences come in handy because you develop relationships with compatible shows. If you are shy or have trouble breaking the ice, consider reading this article to help get the most out of conferences.
Lesson 4: You can come up with a podcast in 20 minutes
Another fun element that Mid-Atlantic Podcast Conference founder Joe Pardo adds is the Creative Podcast Workshop. This is where attendees get in teams of four and are given a prompt to create a new show, including artwork, intro song, content, and a wow factor.  Creative competition – explain what I was looking for
I was selected to be a judge this year, and when I was judging, I closed my eyes to listen to the presenters and not watch them. The reason is simple podcasts are an audio experience, not a visual one. I took points away from those presenting who used visual elements.
But what this competition does is remind me that podcasting doesn't have to take forever to get out into the airways. If you want to have a show all you need is a good concept. We heard some fantastic ideas, which were fleshed out, all in 20 minutes. If something is stopping you from starting your podcast, the chances are it's not the tech, it's something else. Sit down, create a good concept, and record already.
Lesson 5: If you're a podcaster then you're a marketer
Tom Tate from AWeber always gives amazing presentations. For MAPCON, Tom decided to remind all the podcasters that they are marketers, even if they are not in the business space.
I think this is a concept that many podcasters overlook. They believe that all they need to do is get hosting, publish episodes to Apple Podcasts and they will become the next Marc Maron.
Yeah, it doesn't work that way.
Instead, Tom reminded all of us that consistent marketing for the podcast is necessary. Having a way for your listeners to contact you, building an email list, and using social media is still really important. Having a great website for your show is also a good idea.
---
Want to win tickets to next year's Podcast Movement in Philadelphia? We're giving away two of them! Enter now for your chance to win.