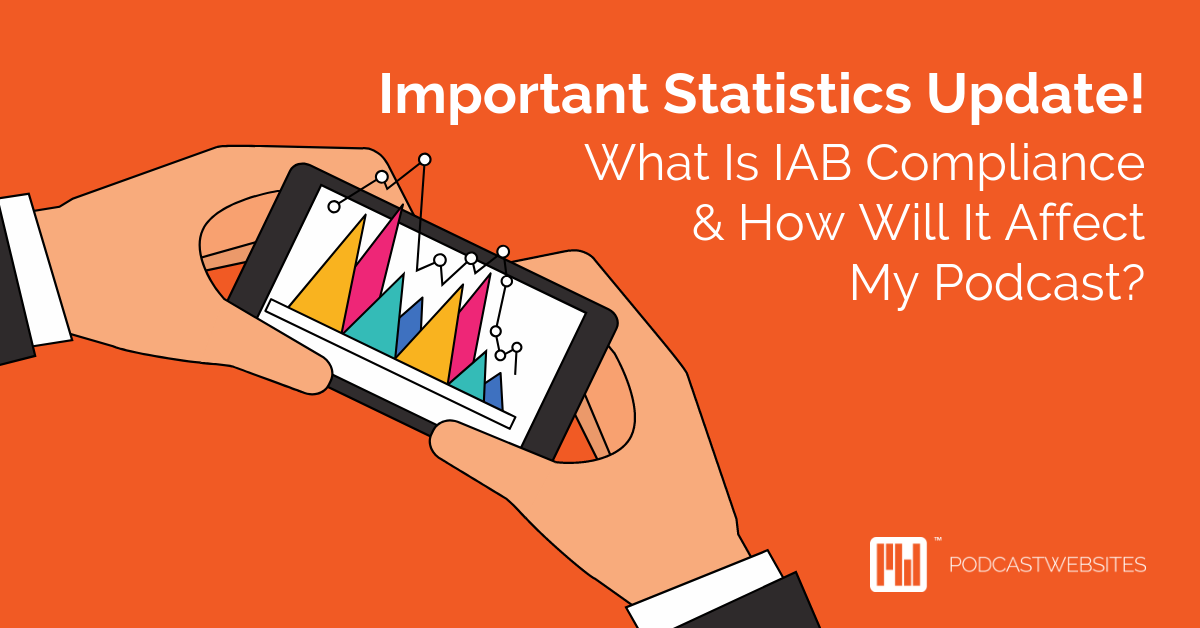 Important Statistics Update: What is IAB Compliance & How Will it Affect Your Podcast?
It's no secret that the podcasting industry is always working to improve metrics across the board when it comes to your podcast downloads and statistics.
The Interactive Advertising Bureau (IAB) is the body responsible for setting the measurement standards within the podcasting industry, and as of today, Podcast Websites' download statistics are fully in-line with the IAB's latest recommendations.
Today, I'm going to take you through everything you need to know about IAB compliance, what the changes are and most importantly, what they actually MEAN for your podcast.
What is The IAB and IAB Compliance?
IAB stands for the Interactive Advertising Bureau, and its purpose is to empower the media and marketing industries to thrive in the digital economy.
The bureau has different groups within it that each work to achieve different things for the media and marketing industries. Our industry group is called the IAB Tech Lab. The IAB Tech Lab have been working on a way to standardize statistics in the podcasting industry through their Podcast Technical Working Group.
According to the IAB Technical Guidelines, "…podcast audiences are growing and offer valuable exposure for marketers. In order to offer this value to buyers, metrics must be consistently defined across the industry. IAB collaborated with members in the podcasting community to establish metric definitions that can be used consistently in the podcast marketplace."
IAB compliance simply means we've adjusted how we report our members' statistics to comply with the IAB's new standardization.
Why Do We Need to be IAB Compliant?
The question of WHY is simple. When purchasing large amounts of advertising, with large amounts of dollars, companies prefer to have one standard of measurement so they can know if their investment in this medium has been a successful one.
Without the ability to measure audience reach definitively, advertisers are hesitant to involve themselves in the industry.
"The challenge for podcast producers and distributors is to offer buyers a set of metrics that is consistently defined and measured equally across the podcast medium," as is written in the Tech Guidelines. "With a consistent set of podcast advertising metrics, buyers and sellers can engage in a conversation about campaign strategy with confidence."
Standardization of downloads and statistics is a great thing for the podcast industry.
It means more transparency for podcasters about your statistics and ensures that they will be consistent across all hosting providers AND most importantly, that they will be accurate for podcast sponsors.
What Does it Actually Mean for Podcasters?
Every podcast acquires downloads in 2 ways: 1. a person downloads it to listen to later (file download), or 2. the person starts listening to it WHILE it's being downloaded (file streaming).
"Delivery methods for downloaded files, whether listened to later or during download, offer valuable inventory to advertisers, but content and ad delivery are handled differently in both environments," explains the guidelines.
Downloads now have to hit certain criteria to be classed as an IAB compliant download. Let's go into detail.
For a download to be IAB compliant, your show must be played for a total of one minute (defined by byte range).
If someone listens to an episode it's classed as one download, even if they listen to that episode ten times within a 24 hour period.
If after 24 hours, they listen again, it is counted as a new download.
If they were to play the first half an hour of an episode, pause it, and then resume the episode an hour later, that would still only be classed as one download.
Now, when someone downloads an episode, we've implemented the proper IAB logic into our tech in order to figure out if that download is classed as IAB compliant or IAB noncompliant.
What's important to remember is that an RSS feed is being "hit" or requested tons and tons of times within a single day. Every time someone hits play, then stop, then play, then stop; bots; web crawlers – all of these things can affect your numbers. There is technology in place to filter those things out, and what's changing is that the tech is counting in a different way.
If a file is a rather large size, it takes sometimes more than a minute to download. So the request for that episode was being counted once, and then the pressing play once as well. That shows an incorrect final stat for your downloads, and rightly so.
In your Podcast Websites dashboard, you will be able to see the basic number of raw download requests that your show & episodes have received along with IAB compliant unique downloads, aka your actual downloads. Remember that the raw download requests will include download requests that don't "pass" the IAB compliance.
Does This Mean That My Overall Downloads Will Go Down?
Your overall downloads have gone down – but your audience numbers are the same as before. The way they are being counted has changed, and now we are compliant with industry standards.
The latest version of IAB compliance means that you are no longer being shown each download request as it was reported previously.
How Will This Affect Monetizing My Show?
Remember that monetizing your show is not just about downloads. It's about pricing your overall influence.
This means taking into account your audience engagement, social media presence, and to what degree the sponsor's target audience aligns with your own (learn more about what to charge sponsors in this blog post here) – to name but a few elements.
If you have existing podcast sponsorship relationships for your podcast, IAB compliance shouldn't affect these at all.
No sponsor should alter their pricing based on your stats now being IAB compliant. Your audience and influence are still exactly the same.
Please remember that IAB compliance is a good thing – for your podcast and for the industry. As the industry only gets bigger, it's important that we standardize measurements like downloads to make for a more open and transparent landscape.
I Have Questions!
You can book a one-to-one call with James, our Head of Podcaster Relations and Operations anytime to discuss any questions, queries or concerns you might have about IAB compliance and these changes in your statistics.
Next Steps
Ready to monetize your audience & become an audio influencer?
Podcasters all across the world are transforming from simply producing audio to becoming a monetised, influential brand with Podcast Websites. When you're ready to become an audio influencer in your niche, we're here for you.
Ready to monetize your audience & become an audio influencer?
Podcasters all across the world are transforming from simply producing audio to becoming a monetised, influential brand with Podcast Websites. When you're ready to become an audio influencer in your niche, we're here for you.