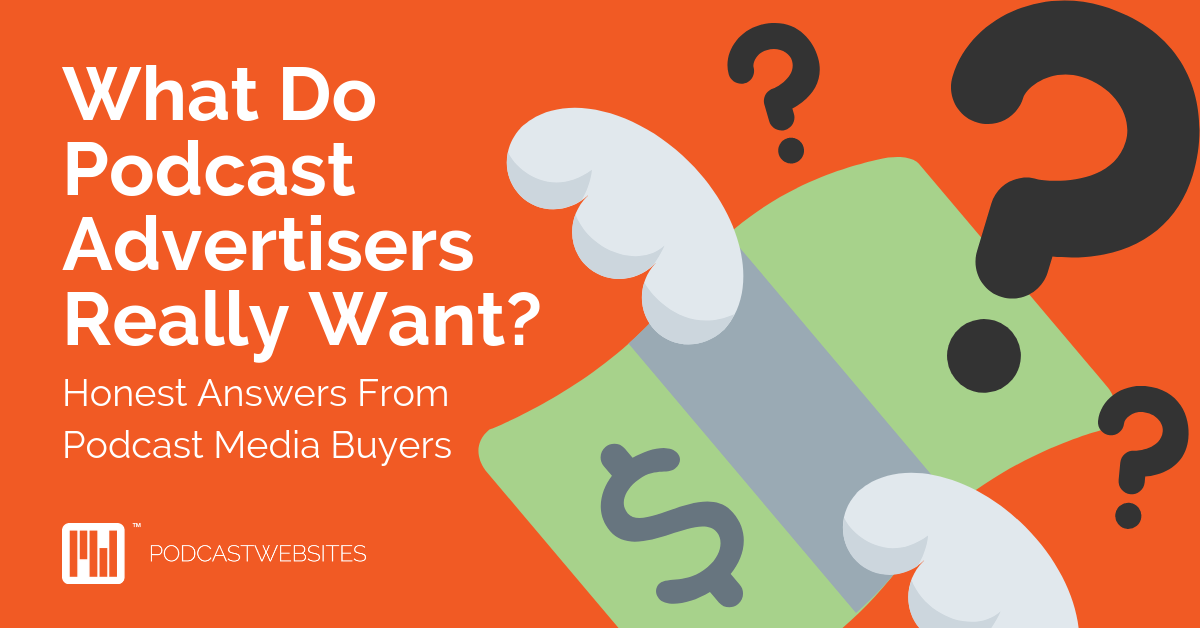 What Do Podcast Advertisers Really Want? Honest Answers From Podcast Media Buyers
In my agency days, I had the pleasure of working with all kinds of businesses looking for podcast advertising.
There are many types of people who buy it — they can work for the company, or be an employee of a large agency who buys in bulk, or, they can be a "hired gun" of sorts, someone to broker the deals on behalf of the advertiser.
I was one of those hired guns when I was the owner of j/k media agency, and for two years I bought advertising on behalf of all different types of companies.
Along the way, I met some others like me: people who were brokering deals on behalf of advertisers. Heather Osgood owns True Native Media and bought my agency last year, and has great insights because she also represents podcasters as well.
Justine Grey is a broker that has a few select but very prestigious clients she buys for. So when I went to answer the questions of "what do advertisers really want" I knew these two were the exact people to help!
What are advertisers looking for from podcast sponsorship?
Advertisers want their influencers to really, really get behind the products they are selling because they want those products to fly off the shelves.
The main goal is sales. Most of the companies doing really well in podcast advertising are direct b2c companies who have customers that can take action right away when listening to a podcast.
"That's not to say that there aren't advertisers looking to increase brand awareness through podcast ads, but I would say that majority of companies want listeners to hear their ad and take action in the form of buying a product or starting a free trial," says Justine.
It's important that you are genuinely enthusiastic about the product/service, or pass on the advertiser. In addition, podcasters that go above and beyond to ensure success are always going to have repeat customers. Do everything you can to make sure your entire platform sees your sponsor message so you can help their sales.
Heather includes: "Quality ad reads that are engaging and interesting and get the audience excited about the product are most effective. In addition, when advertising a product for the first time, its helpful to consider providing 'added value', such as free social posts.
"An extra plug on your social platforms can go a long way in helping the brand see you're invested in them and committed to helping the advertiser see a return on their investment."
How do they decide which shows to choose?
Usually, advertisers go out of their way to make sure the audience is the exact right audience. This is why it's so important to know your demographics well.
"We currently represent a podcast hosted by a couple of beefy television actors," says Heather. "However, the audience is middle-aged women. Even though the hosts are interested in men's products, it's not a good fit for their audience."
Justine agrees: "Each client I work with has a customer persona and ideally the podcast will have a very similar listener persona."
As a podcaster, you need to know your audience inside out to make sure your advertisers are reaching the right people.
Don't just assume that your audience demographic is who you think it'll be – your intended demographic isn't always your demographic.
Think hard before saying yes to anything your audience may not want.
Is there anything podcasters are doing that turn advertisers away?
The podcasters that are most often chosen for sponsorship have a really professional sounding show, a well-branded website, and enthusiasm for the products.
If the sound quality is low, that can turn advertisers away. A website doesn't have to be 100% perfect or even done by a professional designer, but a quality website and branded platform really does matter – DIY sites are ok, but making sure people can find the podcast and particularly the show notes is really important.
"Make sure your podcast is easy to find. If we can't find your podcast on Apple Podcasts or easily locate a website, it makes it hard to create a case for the advertiser that people know, like and follow you," says Heather.
Another big no-no is inconsistent posting. Advertisers do want to know when their ads go live and if a show is winging it, they aren't very pleased.
Heather says: "If the episodes are spotty or don't make sense then we can not predict when we can place ads on your show. This unpredictability makes it difficult to create a solid advertising campaign."
Lastly, exaggerating or being untruthful about stats. "This hasn't happened a ton but sometimes podcast hosts misrepresent how big their shows are to secure larger advertising dollars," says Justine.
"It's unfortunate that a few bad apples ruin it for everyone else, but now we tend to ask for screenshots of download metrics before sponsoring shows."
How is success measured?
Currently, the success measurements are digitally tracked. Advertisers set up a landing page, opt-in, or free trial to see if the podcast is generating any leads.
"This is typically measured over several months," says Justine, "because we know podcast listeners need to hear an ad several times before they take action. We see results with some shows right away, whereas others can take months (or even years) to produce a positive ROI."
Heather continues: "Most podcast advertisers are currently direct response advertisers. This means they are going to use a promo code. They need to see that this offer is being used with your promo code. If the results don't show that your listeners are purchasing, they won't sign up or continue using that show."
What advice would you give to a podcaster looking to monetize their show?
The most important thing that I can emphasize here is audience. Zone in on your audience and deliver for them, because that's the product you're selling to an advertiser.
In addition, Justine says: "Don't start looking for sponsors too soon. Give your show a chance to mature so the niche and audience are well-defined. You also want your show to be large enough to make advertising worth it for your advertisers."
"If you like promoting products and you're committed to putting the time in to properly promote a brand, advertising can be a good source of income," Heather says. "A commitment to constant audience group and promotion is key. As your podcast grows, so will your ad dollars."
Next Steps
Ready to monetize your audience & become an audio influencer?
Podcasters all across the world are transforming from simply producing audio to becoming a monetised, influential brand with Podcast Websites. When you're ready to become an audio influencer in your niche, we're here for you.
Ready to monetize your audience & become an audio influencer?
Podcasters all across the world are transforming from simply producing audio to becoming a monetised, influential brand with Podcast Websites. When you're ready to become an audio influencer in your niche, we're here for you.